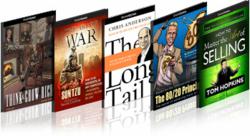 Authors are calling the idea revolutionary.
Franco Arda,
CEO SmarterComics
(Vocus/PRWEB) March 22, 2011
If we combine two maxims — namely, that a picture is worth a thousand words, and time is money — then the new series of illustrated business books from Smarter Comics is literally a trove of very worthwhile pictures. The company has hit upon the ingenious idea of illustrating business books for the Twitter generation. Why spend days marooned in eye-straining text when the same information can be conveyed with imagery in about half an hour?
Several notable bestselling authors, including Chris Anderson "The Long Tail", have translated their books into the new comic format. The effect is undeniably aesthetically appealing, and makes for a quick yet informative read. Each book is 80 pages in length, and takes roughly 30 to 40 minutes to read. Better yet, the comics are available as eBooks, and can be viewed on Andriods, iPhones, iPads, or on a laptop. Paperback editions will soon be following in major national bookstores starting on April 16th.
The idea for the books started as a throwback to how we learn as children. Bright, vivid graphics and streamlined storylines propel our earliest learning. Some of the finest poets in the English language don't rely purely on text — imagine a picture free Dr. Seuss book — yet they make lifelong impressions. While childhood learning is primarily concentrated on lessons of friendship and peer to peer bonding, the new series of comic books takes business as its focus, teaching adults what they need to know in a format they can easily embrace. Some of the books — including "Eat that Frog!," by Brian Tracy — are changing the way authors conceptualize of their work.
"Not only does the comics venue streamline learning for the reader, it also helps bestselling authors reach more people. Authors are calling the idea revolutionary," says Franco Arda, SmarterComics founder and CEO based in Silicon Valley.
Effective promotion has always been difficult for authors, especially in an age where information is a cheap commodity. By changing the rules of the game, SmarterComics has managed not only to improve the experience for readers, but also to help qualified authors share their work with a much wider audience.
For more information, please visit http://www.smartercomics.com
###