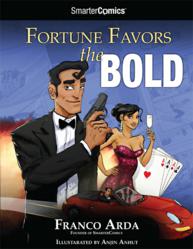 "The book was written to inspire my daughter's success in life," Franco explains, "and it inspired me to launch SmarterComics."
(Vocus/PRWEB) March 22, 2011
Franco Arda didn't plan on being bold: he was just pursuing his dream. After years of working for an international investment bank, he decided it was time for a change. While searching for the "perfect business idea" he began writing a book in his spare time, and ended up creating a groundbreaking publishing business.
Unsatisfied with plain text, Franco wanted something that would interest his daughter while still conveying a powerful message. The idea of creating a comic book based on a non-fiction story quickly became a reality once Franco met with illustrator Anjin Anhut. With Corey Blake, a publisher, they created a prototype which read so effortlessly that Arda realized he had just found his perfect business idea; creating comic books which empower people to realize their dreams.
"The book was written to inspire my daughter's success in life," Franco explains, "and it inspired me to launch SmarterComics."
Franco became an entrepreneur because he was bold enough to try something new. So why are people frightened of being bold? Society shuns people who are openly expressive about what they want, when they want it, and with whom they want it. But there's a big difference between being rude and being assertive. Being bold isn't just about taking charge; it's also about understanding that each individual is worth as much as anyone else currently standing. No one should be afraid to let people in power know that they are capable, confident, and ready for a challenge. If each person only has one life to live, they better make this one count.
Who is more admirable: someone who whispers and is afraid to say what he's thinking, or a confident person who says exactly what he's thinking? 'Boldness' is about embracing one's inner strength and being unafraid to show that strength to others. It's not about showmanship or guile or connections, although all of those qualities don't hurt. At its core, 'boldness' is about sticking to one's dream no matter what obstacles appear. Ultimately, those who refuse to give up achieve their dreams. Celebrities, geniuses, and accomplished professionals all have 'boldness' in common. "Fortune Favors the Bold from SmarterComics" explores how to go from merely thinking about success to concretely attaining it. Regardless of age, background, or geographical location, anyone can make their dreams a reality, too.
"Fortune Favors the Bold from SmarterComics" is the very first book of the innovative series of informative illustrated comic book texts. These books combine the fun, fast read of a comic book with the in-depth know-how of a master work. The printed books is available on Amazon for $9.90, and the eBook (online) can be read for free through the SmarterComics website, http://www.smartercomics.com.
###