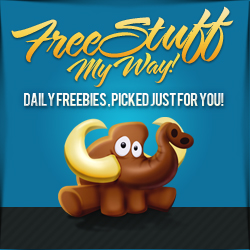 Free Stuff My Way is about the experience and the ease of winning free stuff.
Ottawa, ON (Vocus/PRWEB) March 15, 2011
Defying the stereotype of most free service websites, Free Stuff My Way is an authentic business providing real world free stuff to users through easy access of daily deals and freebies.
Free Stuff My Way offers a variety of daily deals through the vast and ever changing Internet, from high-tech gadgets including IPads and TVs, to vacation getaways, online games and monetary prizes. The "your way" concept expresses the site's purpose: to make free offers as accessible to users as possible. The website is attractive and simple to use, needing only a name and email address to become a member.
With a passionate dedication to bringing the best free offers to users, Free Stuff My Way is easy to navigate, eliminating hours of filtering the thousands of illegitimate web offers that are currently existing online. Superior items are systematically ranked to appear first for the user, ensuring that the user experience is a positive one. Free Stuff My Way displays offers that are valid to the user's country, saving them time and increasing their chances of winning.
Appointed mascot of the site, Manny the Mammoth, is an appropriate symbol of Free Stuff My Way's commitment to finding a large selection of free offers that appeal to many interests. In true 'mammoth' spirit, Free Stuff My Way offers massive returns with their innovative points system. Users will gain points for registering and viewing offers, even more exciting is that those points increase significantly when they opt to share the offer through Facebook and Twitter. Free Stuff My Way is about the experience and the ease of winning free stuff; why not share it with your friends and family? Have a blog? Bloggers receive an extra 50 points if Free Stuff My Way is mentioned in their blog. Free Stuff Debbs explains the point system in this video.
How will these points be used? The top 100 members with the highest points each month will be entered into the Free Stuff My Way Contest. In the first month the winner will be awarded $100 USD, with the prize increasing by $100 each month for 12 consecutive months, with an end of year prize totaling $1200. Free Stuff My Way is showing their commitment to the users, giving away cash to those who want to share and win free stuff! The first draw takes place March 31st, 2011.
# # #