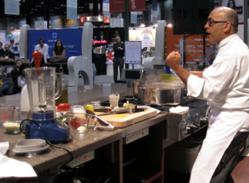 Accommodating gluten-free guests shall become effortless at Feker's Italian/Mediterranean inspired IL MITO Enoteca as he premiers his Gluten-Free dinner menu on Tuesday, March 15, 2011.
Milwaukee, WI (Vocus/PRWEB) March 15, 2011
Chef Michael Feker is a culinary innovator who has made it his mission to get people back to the dinner table; from his restaurant, IL MITO Enoteca, to his state-of-the-art cooking school, CMF's School of Culinary Magic he strives to make healthy cooking accessible to everyone, including those with Celiac disease. This genetic disorder affects more than 2 million Americans, with the only known "cure" being a gluten-free diet. Untreated, or undetected, celiac disease can damage the small intestines and the body's ability to absorb nutrients, as well as an increased risk of developing osteoporosis, anemia and some cancers.
Tuesday, March 15, 2011 Chef Feker will launch his gluten free lunch & dinner menu. This movement shall be followed up by a Gluten-Free Beer Tasting on Thursday, April 28, 2011 held at Feker's Cooking Studio: CMF's School of Culinary Magic, where guests will learn the magic of pairing gluten-free beers with gluten-free cuisine without losing out on flavor or quality.
"It is important to nourish your body and culinary soul with healthy foods that make you feel good," believes Feker. "If someone has Celiac disease, their body cannot absorb the proteins found in gluten, which causes the undigested particles to travel through the blood stream and clog up the bodies ability to function correctly." Ingredients such as buckwheat, corn, rice, soy, potatoes and flax are incorporated in place of wheat barley and rye without the loss of flavor or nutritional quality.
Chef Feker hosts monthly gourmet beer and wine tastings, hands-on and demonstrational luncheons, as well as private lessons for individuals or couples. To learn more about this event and other culinary opportunities, explore http://www.ilmito.com
###