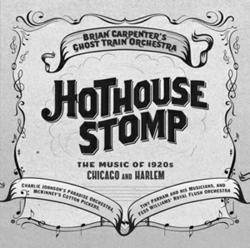 Playing this music live with this incredible cast of musicians is a continuing revelation to me. This music is as visceral and full of life now as it was some 80 years ago.
New York City (PRWEB) March 15, 2011
Before the emergence of the big-bands of the 1930s, following the models of Fletcher Henderson in New York and Bennie Moten in Kansas City, a variety of visions for the larger jazz ensemble developed all over the US. Featuring smaller horn sections and less standardized rhythm sections than the later big-bands, these units had colorful and often eccentric sounds. With "Hothouse Stomp", their debut release, Brian Carpenter's Ghost Train Orchestra. performs new arrangements of music by four such seminal bands from 1920s Chicago and Harlem: Charlie Johnson's Paradise Orchestra, McKinney's Cotton Pickers, Fess Williams' Royal Flush Orchestra, and Tiny Parham and His Musicians.
Full of loving attention to period detail combined with utterly contemporary energy and attitude, not to mention state-of-the-art production, "Hothouse Stomp" delivers the rich experience of transporting the listener to the past and using that past to transform the future. The album was produced by Grammy award winner Danny Blume (The Klezmatics, Sex Mob). Artist Molly Crabapple, best known for founding Dr. Sketchy's in NYC, created the lovingly detailed illustrations of the bandleaders in a CD booklet which evokes yet updates the graphic style of the 1920s. "Hothouse Stomp" will be enjoyed by a young audience exploring outside the mainstream of today's rock, pop and jazz, as well as "purists" of early jazz.
The Ghost Train Orchestra was formed in 2006 after Carpenter was selected as the musical director for Voltaic Vaudeville, an event marking the 90th anniversary of the historic Regent Theater in Arlington, MA. Since then the band has performed regularly in New York City, home of all its members except the leader, a Boston resident. "Hothouse Stomp" was recorded at Avatar Studios in Manhattan after a string of monthly shows at Brooklyn's intimate club Barbes. Carpenter arranged the music with added strings, voice, and musical saw, all inspired by the haunting beauty of the original compositions.
In 2001, Carpenter moved to Boston to direct a film documentary on the life and legacy of Albert Ayler with a group of MIT and NYU film students. From 2001-2005 he produced the free-form experimental radio show "Free Association" on WZBC-FM at Boston College, and continues to produce radio programs there. Carpenter also leads and composes original music for the sprawling Boston-based band Beat Circus, whose critically-acclaimed album Boy From Black Mountain won the Independent Music Award for Best Alt/Country Album in 2010. Earlier this year Carpenter debuted a new band called Brian Carpenter & The Confessions, whose music is primarily song-oriented, with Carpenter as lead singer and lyricist. In addition, Carpenter recently recorded on last year's critically-acclaimed Swans album My Father Will Guide Me Up a Rope to the Sky.
The Ghost Train Orchestra features an outstanding roster of talent: trumpeter/leader/arranger Brian Carpenter (Beat Circus, The Confessions), clarinetist Dennis Lichtman (King Wilkie), alto saxophonist Andy Laster (Matt Darriau's Ballin' The Jack), tenor saxophonist Matt Bauder (Anthony Braxton), trombonist Curtis Hasselbring (Matt Darriau's Ballin' The Jack), violinist and vocalist Mazz Swift (Burnt Sugar), violist and saw player Jordan Voelker (Beat Circus), banjoist Brandon Seabrook (Seabrook Power Plant), tubist Ron Caswell (Beat Circus, Slavic Soul Party), and drummer Rob Garcia (Woody Allen Band, Joseph Jarman).
Coming up in the spring and summer are CD release concerts in New York City, starting with a show on Saturday 3/26 in conjunction with the 3rd anniversary of Swing House, a monthly vintage loft party in New York City. The Ghost Train Orchestra will perform again on Wednesday June 29th at the Highline Ballroom in NYC.
Saturday March 26 2011
Shangri-La
Swing House 3rd Anniversary
100 Sutton Street, Brooklyn NY
Wednesday June 29 2011
Highline Ballroom
431 W. 16th Street NYC
###