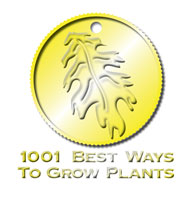 I completely forgot that my bunnies were out.
Los Angeles, CA (Vocus/PRWEB) March 16, 2011
1001BestWays.com, where people go to share their best ways of handling life's biggest challenges, announces its annual Spring Planting Guide: the top 10 best and worst ways to raise plants, presented unedited from actual user submissions.
Five Best Ways To Raise Plants
1. Compost Grows Better Neighbors.
"We have a city approved compost bin that we use to create compost for the garden. Our neighbors think it is such a great idea that they also stop by with buckets to contribute. Now that we make so much, we are distributing it to several neighbors who are POSITIVE it is the reason they have had an incredible tomato harvest."
2. Early evening planting.
"I always plant my flowers in the early evening when the sun is going down. It seems that they do better this way."
3. Plastic mulch.
"I have better tomatoes than any of my friends. My best secret is that I use black or red plastic mulch for plants that like warm soil temps. This will not only warm the soil but will help to keep moisture levels more constant and reduce the amount of watering necessary. I consistently get more tomatoes, and get them MUCH EARLIER than many other gardeners in my area."
4. Egg water.
"Whenever I make hardboiled eggs, I save the egg water. After it cools, I poor it onto my plants. There is extra minerals in there to help the plants' cells."
5. Coffee, eggs, and bananas.
"Here goes! I've never told anyone about this, even when they wonder at the size and "enthusiasm" of my house plants. I mix coffee grounds, grind up egg shells in a mortar and pestle and chop banana peels into teeny bits, mix them together, and then dig them into my house plants 4 times a year. My plants are HUGE and a healthy vibrant green, and it works for all kinds of plants...oh, yes, and it's really, really cheap to do!!"
Five Worst Ways To Raise Plants
1. How To Kill 300 Tomatoes With A Single Frost.
"I grow patio tomatos, starting the plants from seeds. After I potted my patio tomatos, I had four spindly plants left. Rather than let them die, I raked up grass clippings and tilled them into a small space in my yard. I planted the four tiny plants. Each time I mowed the lawn, I tilled the clipings into the ground by my plants. As the season progressed, the four plants in the ground grew, then turned into monsters. They were huge, but late to bloom. When they bloomed, each plant set over a hundred tomatos. After my patio tomatos quit producing, I began to pick from the four plants in the ground, until the first hard frost. I didn't protect the four plants and the frost killed all four, with about 75 tomatos on each plant!"
2. Who Would Have Thought Cute Little Bunnies Would Be So Destructive?
"I definitely should not be let near a garden, I will screw it up! One day, I took my bunnies out of their cages to run around my back yard for a while. I played for hours with them. When my mom called me in for dinner, i got so excited, I completely forgot that my bunnies were out. After dinner, I remembered I had left them out. When I went out side to catch them and put them back in their cage, I found all of them in my moms garden. My bunnies destroyed everything! They ate all the pretty flowers and nibbled on on the fruits and veggies in my moms garden. It was bad."
3. Lake Erie Flower Garden Chainsaw Massacre.
"There is one incident I recall. I used to live with my mom, and she likes to garden. She lives in a small house, but her yard is pretty large. There are flower patches all over, which she has encased with stones taken from Lake Erie which I have brought her. One day she asked me to cut down a pine tree about 15 inches in diameter near her gardens. Well what do you know, I start up my trusty Stihl chainsaw which I have used to cut down many many trees on my brothers 6 acre forested land. This time however, things didn't go so well. Halfway through cutting the tree trunk, the chainsaw starts smoking and then the thing just starts on fire. I was not ready for that, not at all. In my surprise, I yanked the thing out of the tree and threw it in the garden patch while the blades were still spinning. It tore up everything in it's path, so many plants and flowers my mother cared for just ripped apart. She wasn't too happy about that."
4. Learn The Difference Between Weeds And Tomatoes.
"I decided I wanted to try a garden last year. So I bought seeds of vegetables I wanted to grow and prepared my garden and planted my seeds. I watered them everyday and tended to them. Once I saw my tomatoes starting to sprout bigger and bigger I couldnt decifer if it was a weed or a plant cuz I was affraid to pull anything growing even if it was a weed. One day I went out and saw a little bush next to what I thought was my plant so I pulled it out thinking it was a weed and as the other plant got bigger I had indeed pulled my tomatoe plant and let my weed grow big enough to discover what I had done. So I got no tomatoes last year!"
5. The Invasion Of The Halloween Pumpkins.
"Two Halloweens ago I saved some seeds from a pumpkin, intending to plant them in the spring. The plants have big beautiful leaves and gorgeous giant yellow flowers. I got plenty of pumpkins of interesting shapes and colors, but little did I know the plants would take over my garden! Each tendril grows almost a foot a day, and they attach themselves to the ground, bushes, railings, and everything they come across. Cleaning up in the fall was a big mess!"
Every hour, on the hour, 24 hours a day, 1001BestWays.com presents a new Best Way to do something important like raise children, save money, improve your relationship, advance your career, improve your health, and even grow plants.
Every 42 days, 1001BestWays.com collects all of the Best Ways and publishes them in book form at Amazon.com and Kindle.
###