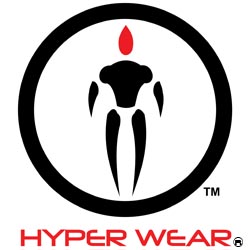 A network of selected training professionals to demonstrate dynamic training with SandBells, Hyper Vests and SteelBells
San Francisco, CA (PRWEB) March 16, 2011
At the 30th annual International Health and Racquet Sports Association (IHRSA) trade show expo this week, Hyper Wear, innovative creator of the Hyper Vest® PRO weight vest, SandBell®, SteelBell®, WaterBell™ and Hyper Vest COOL™, is launching its training and education programming under the direction of internationally recognized performance training and fitness expert Diane Vives, CSCS, who is joining Hyper Wear as Director of Training and Education. As a kick-off to this important step, Hyper Wear is launching the Hyper Training Ambassador network of selected professionals in the fields of sports performance training, personal training, and physical education to drive brand and product awareness.
We are pleased to welcome the first two Hyper Training Ambassadors, Britny Fowler, and Chad Skrederstu, who will be at IHRSA with Hyper Wear at booth 2928, and leading early morning workouts. Britny Fowler, NASM –CPT, is a personal trainer at Life Time Fitness and can be seen on A&E Television in the reality show "HEAVY", http://www.aetv.com/heavy, about changing the lives of the morbidly obese. Chad Skrederstu, CSCS, founder of action sports performance training program Sand, Snow and Street, http://www.sandsnowandstreet.com, recently returned from a ten month worldwide tour where he visited with experts in strength and conditioning around the globe.
Hyper Training Ambassadors will spread the word about Hyper Wear's innovative fitness products offering workshops and helping teams, schools, performance centers, fitness studios, health clubs, boot camps, and personal trainers learn creative and effective training methods for performance, fitness and health. For information on being considered for the program and the benefits, contact us.
About us: Hyper Wear was founded to bring innovative products to market in the areas of fitness, health and wellness. Its innovative products include the Hyper Vest® PRO weight vest, Hyper Vest COOL™ ice vest for pre-cooling and recovery, SandBell® sandbag weights, SteelBell® steel shot filled weights, and WaterBell™ water filled weights. Men's Health Magazine http://www.menshealth.com described the Hyper Vest as "the best" weight vest, and the non-profit American Council on Exercise (ACE) awarded the Hyper Vest weight vest its highest five-star rating in an independent review http://www.acefitness.org. Hyper Wear's products have also been recommended by or featured in Real Simple Magazine http://www.realsimple.com, Life Time Fitness' Experience Life Magazine http://www.experiencelifemag.com, ESPN Rise, Muscle and Fitness, Men's Fitness, Women's Health, the Diet Detective, Dance You're A** Off television show, the L.A. Times, and Chicago Tribune. For more information on Hyper Wear, http://www.hyperwear.com or call toll free 888-460-0628.
# # #