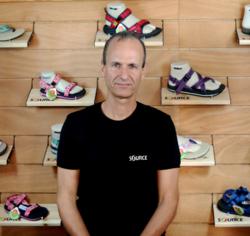 SOURCE dedicates 5% of its net profits to social and environmental activities in its surrounding environs
Tirat Carmel, Israel (PRWEB) March 17, 2011
Life and the Environment, Israel's umbrella organization for over 120 Green NGO's, has chosen Mr. Yoki Gil as a winner of its 2011 Green Globe Award. Israel's most prestigious environmental prize will be presented at the organization's eighth annual award ceremony set to take place at 5:00pm on March 24th at the Gat Theatre in Tel Aviv, Israel.
Mr. Gil will be recognized for his outstanding achievements in environmental activities. His privately owned company, SOURCE Vagabond Systems, which began as a one-room facility over 20 years ago, produces a selection of green hydration backpacks and bladders and hiking sandals designed to be functional, durable and environmentally aware. Their recently introduced Spresh squeezable water bottle provides easy hydration with 'one hand operation.'
SOURCE prides itself on its strong ties and commitment to the community as well as its liberal employment policies which exclude prejudice of all kinds. In their efforts to initiate meaningful social changes in their community, SOURCE dedicates 5% of its net profits to social and environmental activities in its surrounding environs.
Mr. Gil is one of the founders and chairman of the Tirat Carmel Community Foundation which provides social and community events to help integrate the area's diverse cultures.
The Green Globe Award Ceremony will host the esteemed Mayor of Tel Aviv, Mr. Ron Huldai, Knesset members, representatives from Israel's business sector, media moguls, leaders of various environmental organizations and other prominent guests.
# # #