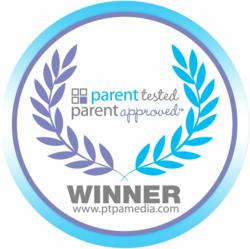 The PTPA Winner's Seal on a product helps parents identify products that have been tested and recommended by other parents. It's like shopping with your best friend.
Toronto, Ontario (Vocus/PRWEB) March 15, 2011
Parent testers and their families are saying so many great things about these products that approving them just isn't enough. RuffleButt Bloomers are the cutest, Where the Heart Listens is incredibly helpful, Mederma for Kids works mini miracles, Kid'Sleep Classic gives parents more sleep, Lands End makes swimsuits with Sunscreen built in and the T-Fal Actifry makes amazing French fries with only a teaspoon oil! These are just some of the amazing products that PTPA has recently awarded their Seal of Approval.
PTPA Media has North America's largest parent tester community – they are a leader in their field with over 40,000 families signed up as testers.
"The PTPA Winner's Seal on a product package or website helps parents identify products that have been tested and recommended by other parents. It's like shopping with your best friend," says PTPA Founder and CEO, Sharon Vinderine.
Since 2008, PTPA has evaluated thousands of products and services from both leading manufacturers and emerging brands. Because independent parents evaluate these products in their own homes, PTPA winners are chosen based on merit and consumer experience – not on commercial considerations.
PTPA Media has become a recognized source by the media for credible and reliable recommendations for the audience. PTPA Founder Sharon Vinderine has presented PTPA winners on over 40 morning shows including the Rachael Ray Show, Fox and Friends and Canada AM.
Here are just a few of the innovative new products to receive the PTPA Winner's Seal of Approval for Spring 2011:
RuffleButt Woven Baby Bloomers – The word "cute" just isn't enough! These diaper covers will have everyone asking, "Where did you get those?"
Where the Heart Listens: A handbook for parents and their allies in a global society. Every parent can use support regardless of their child's age. This program models honest, respectful and caring communication,what more could you ask for?
Mederma for Kids – Is your child self-conscious of their scar? We've tested it, and it works! Reduce the appearance of scarring.
Kid'Sleep Classic – No more 4am early risers! The pictures on this nightlight tells younger children if it's sleep time or wake time. More sleep in's for parents!
Hevea Teether – Made from 100% natural rubber latex, this soft and soothing teether was a huge hit with our testers!
Lands End Swimwear – With a "tugless" fit, rash guard protection for boys and built in SPF 50, Lands End builds more in to the swimsuit so you can get more out of it.
T-Fal ACTIFRY – Get the flavor of deep fried French fries with only 1 tsp. of oil! Tested and proved to be true, this amazingly healthy kitchen appliance will allow you to make all kinds of different foods. Our testers can't say enough about how much their families love it!
For a complete list of award winners, visit the newly updated website
About PTPA Media Inc.
PTPA Media provides an objective framework for appraising and promoting new products designed to enrich family living. The company's mission is to marry innovative companies with discerning consumers, to improve consumer access to quality products and services for their families and homes.
###