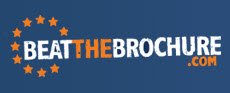 The results of this survey are really a very fascinating read, for those involved in the travel industry and holidaymakers alike.
(Vocus/PRWEB) 15 March 2011
A recent industry survey of just under 5000 British holidaymakers has revealed that 83% of the respondents want adult only areas on commercial flights, with a further 31% saying they would prefer it if children were banned from flights completely. This new survey provides a rare insight into what British travellers want from their airlines and their holiday flights, say Beat The Brochure.
Daniel Ox of Beat The Brochure says, "The results of this survey are really a very fascinating read, for those involved in the travel industry and holidaymakers alike. Sure, it may sound a little cruel to want to ban children from flights altogether, but the majority of respondents would actually like adult-only cabins on flights, which would mean that they would be separate from children, and any associated noise."
However, loud and unruly children were not the only annoyance that the holidaymakers reported, with 75% of those surveyed said that they had suffered during a flight due to the lack of leg room, which had made them uncomfortable throughout their entire journey. Other flight irritations included smelly passengers, with 9% of those surveyed stating that the bad odour of another passenger has ruined flights for them.
Ox continues: "It's clear that while comfort should be paramount for both passengers and crew on flights should be paramount, that there are a number of irritants that stop this from happening. Alongside smelly passengers, snoring passengers was also named as another obstacle for respondents, with 1% stating that they found this irritating, with twice as many women than men stating that snoring was an issue on flights. Obviously there will always be things that could stop travellers from enjoying their flight, but there are things that holidaymakers can do to ensure that their flight isn't too stressful, and the Air Travel Advice Website has a lot of useful information that travellers can find very useful."
About Beat The Brochure:
Beat The Brochure's technology brings all the leading UK travel suppliers together in one simple search, affording our customers access to the very best deals from leading operators such as Thomson, Thomas Cook and First Choice.
Our technology also has the ability to bring together a huge range of hotels, flights, cars and transfers to create your own bespoke package - offering you the ultimate in flexibility at lowest possible price in one seamless experience.
Beat The Brochure is part of the award winning Como Street Travel Group with offices based in Central London, Essex and Blackpool and Florida, now boasting a team of almost 100 experienced travel consultants.
Beat The Brochure is a fully bonded member of the Travel Trust Association (TTA U0898) and is licensed by Civil Aviation Authority (ATOL - T7270) offering you and your money the very best in financial protection and peace of mind at all times.
###