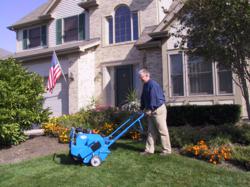 Chicago, IL (PRWEB) March 17, 2011
Winter across the country has seemed longer than ever this year—with more snow than ever. After some historic blizzards, homeowners are itching to get out of their houses and back outside to prepare their outdoor spaces for the numerous gatherings and celebrations spring and summer will bring. Mother Nature does a great job when it comes to waking up plants from a long winter's nap and kick-starting new growth but sometimes she needs a little help.
Spring-Green has lawn care programs to meet homeowners' needs and budgets and knows exactly what it takes to rejuvenate green spaces and jumpstart new growth after the bitter winter stretch so here are their answers to some of the most frequently asked questions regarding spring lawn and tree care.
1. Should I rake my lawn in the spring? A light raking with a leaf rake or flexible tine rake is good but not necessary unless the lawn has developed a disease known as snow mold. Snow mold usually develops near melting piles of snow in shady areas and results in unsightly matted, seemingly dead patches on a lawn but can be remedied by a light raking. As for raking the rest of the property, it's a good idea to rake up any leaves that have become entrapped in bushes and shrubs in the landscape beds; the landscape will look better and the new leaves and flowers will be allowed to shine through unobstructed.
2. When should I fertilize my lawn for the first time? As lawns come out of dormancy, they need food to grow so waiting until the ground thaws to fertilize is recommended. Use a product that is higher in nitrogen – the first number on a fertilizer bag – because it is a major nutrient that most plants require in order to maintain good color and growth. Try to fertilize as soon as possible, for waiting until May or June could result in a weak, pale lawn.
3. What is the best time to apply a crabgrass control? There is an old adage that states that one should apply crabgrass control when the forsythia blooms. Unfortunately, forsythia has been known to bloom as early the first week of March, which is often too early in many climates. A better way to determine when to apply crabgrass control is to watch the soil temperature. The best way to check this is to take a standard meat thermometer and push it one inch deep into a sunny area of the lawn. If the temperatures are nearing the 60 degree mark – the optimum temperature for crabgrass germination – it's time to apply. Also, be sure to water soon after application, as many crabgrass control products require water to evenly distribute the product across the soil surface.
4. Why do I have so many weeds in my lawn and what can I do to minimize their presence? Weed seeds are introduced into lawns by the wind, rain or carried by animals. To combat their germination, maintain a thick lawn that is mowed high. Lawns that are mowed short allow more sunlight to penetrate to the soil surface and heat up the weed seeds, helping them to germinate but longer grass blades will shade the ground and keep it cool and moist for a longer period of time.
5. Is there anything special I need to do when I mow my lawn for the first time in the spring? If the grass was left too long in the fall and it has turned brown due to winter dormancy, mow shorter than normal to remove the unsightly color. Don't scalp the lawn but mowing shorter means that the new grass blades will not have to compete with the old blades. If the lawn was mowed correctly last fall, however, set mowers on the high side depending on the variety of grass that is present. For the most part, all varieties of turf grass should be mowed at 2½ to 3 inches from the spring until early fall.
6. Do I need to water my lawn or landscape in the spring? As with the answers to most questions regarding lawn and landscape care, it all depends on the weather conditions. Generally speaking, there is so much natural rain fall in the spring that watering is not required but during drought periods, supplemental water may be necessary. If the drought is teamed up with warm temperatures, watering becomes even more critical so a rule of thumb is to introduce an inch of water each week to keep it in a good growing state.
Spring-Green Lawn Care remains committed to being environmentally responsible by enlisting the best practices in lawn and tree care and helping to create both beautiful and beneficial lawns and landscapes. Spring-Green has partnered with The Arbor Day Foundation and for every new Spring-Green customer in 2011, the company will make a donation to plant a tree in a forest that has been damaged by wildfire, insects or disease with a goal of planting a minimum of 10,000 trees this year.
Founded in 1977, Plainfield, Illinois-based Spring-Green Lawn Care has been delivering both traditional and organic lawn and tree care services nationwide for over 34 years. Its service is centered on the beautification of local neighborhoods and communities with both residential and commercial customers. Spring-Green is an attractive opportunity for candidates who do not want to be tied to a storefront operation, retail hours or set appointments. Franchisees enjoy flexibility of schedule and an outdoor-based business with recurring revenue. Spring-Green currently has 120 franchises operating in 25 states and projections call for 10 new franchises in 2011. For more information, visit http://www.springgreenfranchise.com.
# # #