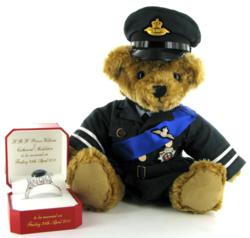 As soon as I took the first 'William' out of his box, I knew the bears would be a sought-after item.
(Vocus/PRWEB) March 16, 2011
Since Prince William's engagement to Catherine Middleton was announced, fifth-generation Royal Commemoratives specialist Stephen Church has enjoyed the near-constant introduction of new items to commemorate the April 29 wedding. Last week, he presented the new William the Teddy Bear by the Great British Bear Company to his customers, and orders have been coming in ever since.
Church is managing director of Church's China, the longest operating Royal Commemoratives retailer in the U.K., and its online sales division, The U.K. Gift Company. He says, "I love to see the reaction of our most enthusiastic Royal Wedding fanatics when a new item is introduced. As soon as I took the first 'William' out of his box, I knew the bears would be a sought-after item. As limited editions, they are great collector's items. These cute and cuddly bears also make excellent gifts because they come with an enchanting surprise."
Each handmade plush bear, limited to an edition of 5,000, comes with a replica of Kate Middleton's engagement ring that is a full one and three-quarter inches in diameter.
William the Teddy Bear stands over 12 inches tall and comes dressed in full "Royal Bear Force" regalia. The bear's peaked cap is decorated with golden die cast Royal Bear Force wings and is made from authentic Air Force blue fabric. His jacket's brass buttons and press-pleated pockets make the uniform look just like the real thing. Double black and silver arm bands signify William's rank of Flight Lieutenant. Across the bear's chest is a Royal blue sash decorated with silver wings. The wings rest just above the Silver Star pinned to William's jacket, an honour reserved for serving Royalty. According to the Great British Bear Company, it takes nearly 12 hours to make each "William" uniform, and it is the most detailed and authentic costume the company has ever made.
The replica ring is presented on the bear's lap in a red leather box embossed inside and out in gold with the words "H.R.H Prince William & Catherine Middleton to be married on Friday 29th April 2011." The ring itself, plated in white gold, is set with 16 white zircon stones surrounding an oval-cut blue zircon. The inside of the ring is engraved with the words "H.R.H Prince William & Catherine Middleton."
Each bear comes with a numbered commemorative certificate of authentication. William the Teddy Bear retails for $52.93 at http://www.theukgiftcompany.com.
Church adds, "One of our customers, delighted with the her purchase remarked that the teddy looked so dashing in his Royal Air Force Uniform, she was reminded of Tom Cruise in Top Gun. She could just see William the Teddy Bear lifting his bride over his shoulder and carrying her off into the sunset."
The Great British Bear Company creates bear characters that will inspire children to play and enthusiasts to collect. All its teddy bears are highly durable and made to be played with. All bears, clothes and accessories are tested to comply with the latest International toy safety standards. The bears are suitable for children over 36 months.
Established in 1858, Church's China sells a wide range of china and other collectibles. Specializing in royal commemorative memorabilia, the company has locations in Northampton and Market Harborough, England as well as an online division, The U.K. Gift Company. For more information, visit theukgiftcompany.com.
Media Note: If you would like to arrange for a telephone interview with Stephen Church, please contact Nancy Marshall at nmarshall(at)marshallpr(dot)com or Jennifer Boes at jboes(at)marshallpr(dot)com. Mr. Church will also be available for live interviews in New York City in spring 2011.
###