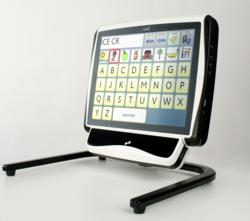 "The C-Series from Tobii includes the first eye tracking control device RSLSteeper have offered, and will enable us to create new environmental control systems to help an even greater range of users to live more independent lives"
(Vocus/PRWEB) 16 March 2011
RSLSteeper, the UK's premier provider of assistive technology equipment and products has teamed up with Tobii, the world leader in eye tracking and eye control technology, to become a reseller for a range of advanced products designed for people with physical disabilities.
The Tobii range of AAC tools are designed to help those affected by conditions such as Motor Neurone Disease, spinal injuries, autism, cerebral palsy and strokes to express themselves and interact with the world around them.
RSLSteeper will be offering the Tobii C-Series range of PC-based tablet computers to its customers, alongside the Tobii S32 recorded speech and environmental control device. With control via either touch screen, or through eye movements via Tobii's groundbreaking CEye eye tracker, these products help users with both verbal and physical difficulties to communicate more easily with family members, carers and friends.
The new products will join RSLSteeper's existing range of home communication and automation products, which are designed to help people who lack full mobility to communicate, open doors, answer telephones and intercoms, and operate a host of electronic devices from lamps and televisions to motorised chairs and beds.
Dave Howson, Director of Assistive Technology at RSLSteeper said:
"We are really pleased to be able to add the Tobii devices to our extensive Assistive Technology product range. The C-Series from Tobii includes the first eye tracking control device RSLSteeper have offered, and will enable us to create new environmental control systems to help an even greater range of users to live more independent lives."
Hector Minto, UK Sales Manager Assistive Technology at Tobii Technology said:
"Tobii are continually developing new rehabilitation products for the AT market. Eye control offers people living with severe physical disabilities direct access to a computer in the fastest way possible. RSL Steeper are ideally positioned to provide and support our products in the rehabilitation sector."
RSLSteeper is accredited to ISO 9001 for Environmental Control System design and can offer advice on appropriate devices and systems for each customer. Its dedicated team of specialist engineers can install, maintain and service these systems, and can provide on-site training to users and their carers.
For further information, please visit the RSLSteeper Assistive Technology website.
# # #