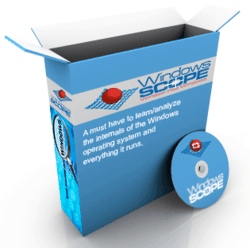 Amherst, MA (Vocus/PRWEB) March 16, 2011
BlueRISC Inc (http://www.bluerisc.com), a leader in hardware-assisted security systems that has leveraged a combination of its industry-unique security processor and software technologies to provide endpoint security for defense companies, has released WindowsSCOPE Pro 1.0 (http://www.windowsscope.com), its first commercial tool suite for reverse-engineering, cyber analysis and memory forensics on Windows based computers.
As illustrated by the many recent exploits on Windows systems, advanced cyber-threats rely on subverting the Windows kernel to enhance their capabilities and to avoid detection by conventional threat detection techniques. From defense, to finance, to infrastructure companies and organizations, as well as to individuals, what is truly happening in a computer becomes increasingly more difficult to ascertain and even more difficult to trust today.
Designed as a "Window into Windows", WindowsSCOPE enables in-depth analysis and reverse engineering of the Windows kernel and all kernel and user-space programs and drivers at a given time, through its unique extraction methods, intuitive representations of information and interactive graphical visualization, including down to single-instruction-level detail.
It is a powerful way to learn about the internal workings of the Windows operating system, debug and reverse engineer all system layers, as well as, identify, trace and analyze cyber-threats that may be present on a system. Furthermore, its advanced comparison and snapshot repository features allow retroactive tracking and time stamping of so called zero-day attacks that went undetected initially and enables analyzing compromises that may have occurred in the past.
WindowsSCOPE is sophisticated enough for the most advanced developers, system administrators, security and law-enforcement professionals, and computer researchers, but also easy enough for hobbyists and students.
"This tool is going to revolutionize the method in which Windows machines are investigated. It is a first of its kind", says BlueRISC Chairman and Founder Dr. C. Andras Moritz.
The WindowsSCOPE tool suite provides security professionals, system admin, developers, cyber-threat analysts, computer system researchers, students and hobbyists with a powerful tool for in-depth analysis of computers running Microsoft Windows. More information, as well as, a free trial download can be accessed from the WindowsSCOPE website (http://www.windowsscope.com). Full versions can be purchased starting from $149 from the WindowSCOPE e-store.
###