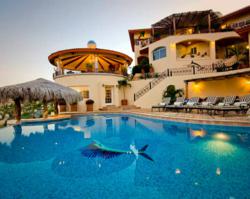 There is truly no better way to experience Cabo San Lucas with this high level of accommodations, amenities and luxury 6-star services which are provided with this special free night promotion.
Prescott, AZ (Vocus/PRWEB) March 15, 2011
E3Escapes proudly announces an incredible limited-time opportunity to spend and experience a luxury vacation this April, including Easter Weekend, in beautiful Cabo San Lucas for vacation groups of up to 16 people at a special discounted rate.
E3Escapes is offering this special free night promotion for available April inventory, providing guests an unbelievable opportunity to have the staff of the incomparable Villa Las Palmas, an amazing 13,000 sq. ft. mansion, totally pamper them and their friends and family with this ultimate "3-dimensional" April Vacation Opportunity. "There is truly no better way to experience Cabo San Lucas with this high level of accommodations, amenities and luxury 6-star services which are provided with this special free night promotion." said Tim Gesner, President of E3Escapes.
The first dimensional starts with an ultra-luxury villa like none other, the six (6) bedrooms and 13,000 square foot Villa Las Palmas mansion in the exclusive gated community of Pedregal, with spectacular views, yet intimate privacy. Overlooking the breathtaking Sea of Cortez and Cabo San Lucas marina, Villa Las Palmas offers four private suites and two private casitas, each with private bathrooms.
The second dimension is a comprehensive collection of Amenities to select from, both on property and off, including access to the E3Yacht Club, which provides a collection of fishing, motor and sailing yachts for deep-sea fishing, whale watching, sunset cruises, and daily excursions. The E3Golf Club rewards guests with Preferred Rates, Preferred Tee Times and Preferred Concierge Services at some of the best Cabo Golf Courses. Guests also can receive in-villa spa services and have access to Pedregal's Private Exclusive Beach.
The final dimension, E3Escapes' signature 6-Star Service, starts with your private transportation to and from the Airport and includes an on-site SUV, your own Private Chef, and 24/7 Concierge Services, supported by a staff of five (5) to cater to all your pre-arrival and on-property needs. Breakfast, mid-day snacks and non-alcoholic beverages are included.
Each luxury vacation experience can be fully customized and tailored to each party's needs, whether it is the size of the group, the duration, or the amenities they would like to enjoy. If it is offered in Cabo, E3Escapes can make it happen. Concierge service is available to answer calls or questions about this offer and can help plan the perfect vacation experience. Concierge can be reached via toll free at 877-863-2252, or by inquiring on the E3Escapes website.
This special offer is available for travel only during April of this year. There are limited days available to book at this special discounted rate and space is limited. This offer is valid for Easter weekend as well, which is currently still available.
E3Escapes is proud to offer this limited time promotion, one free night stay, for family and friends to spend this April in Cabo San Lucas enjoying this ultimate "3-dimensional" Vacation experience at Villa Las Palmas.
About E3Escapes
Established in 2008, E3Escapes is a cutting-edge development firm offering ultra-luxury fractional home ownership collections in the "Monte Carlo of the Western Hemisphere," Cabo San Lucas Mexico. The shared vacation home ownership collection contains three distinct elements, capturing the unique vacation lifestyle of the region for an unparalleled and unprecedented luxury experience. The lavish Villa Las Palmas Collection provides a world-class ownership opportunity, including a six bedroom, 13,000 square-foot mansion overlooking the Sea of Cortez, an unrivaled portfolio of amenities, including the E3Yacht Club and E3Golf Club, as well as their unprecedented signature six-star service. E3Escapes and the Villa Las Palmas Collection have truly elevated ultra-luxury vacationing in Cabo San Lucas Mexico to the Third Power.
###