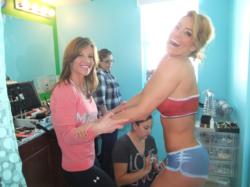 Fitness game-changer Jennifer Nicole Lee dedicates her 2012 calendar all to body painting & body airbrushing at grand opening of new Fitness Model Factory.
Miami, FL (Vocus/PRWEB) March 14, 2011
Super fitness model Jennifer Nicole Lee opens the door to her new "Fitness Model Factory" production studio, with a kick off photo shoot to her 2012 Calendar, dedicated to the art form of body painting, body air brushing, and body jewelry. JNL's Fitness Model Factory is where all the biggest names in the industry are photographed, and where new fitness stars will be born. For more info, please visit http://www.FitnessModelFactory.com
Visionary and fit celeb Jennifer Nicole Lee is the President and Creative Founder of her "Fitness Model Factory." She believes there is such a thing as TMF, one of her many "JNL-isms", which stands for "too much fabric". Therefore she dreamt up her next calendar photo shoot production, dedicating it to the exotic art form of body painting, and body airbrushing.
JNL states "I was inspired by my sons face painter at his birthday party. I asked her is she knew anyone that could paint clothes, bikinis, lingerie, and even designs on my body. She gave me some leads, and I found the best body artists in the business. Thus dedicating my entire 2012 Calendar to body painting."
Jennifer went on to say that she will make this an interactive process between her and her JNL fitness friends, as she is asking them for themes, design ideas, submitting them on her You Tube channel at http://www.JNLYouTube.com
JNL's Fitness Model Factory is a full service production office and VIP Training Studio dedicated to fitness dreams. Photography, Coaching, Consulting, Seminars, Brand Building, Marketing, Promotional Services, and training.
The Fitness Model Factory was created and founded by JNL and her team of elite and highly sought after fitness, nutritional, and multi-media experts. Due to the urging of her global fitness friends, JNL has created the ultimate production offices, offering full services from photography, training, nutritional, online marketing and brand building, promotional services, plus so much more The FMF offers the best top of the line services for everyone and their fitness/wellness/brand building needs. Whether you want fresh new photos with some of the world's most talented JNL-Approved photographers, or you need a "Kick Your Trash" JNL Fusion Workout with Coach Wicked Willie, or if you are ready to burn the fat and feed your sexy muscle with a one on one private Nutritional Consultation with the Diet Diva Unni Greene herself, we offer the aforementioned, plus so much more.
JNL believes in marketing, promotion, websites, having a strong online presence, building your fan base, networking, and working with the right production teams. From someone who got herself booked on over 40 different magazine covers, with countless editorials, and even having appeared on The Oprah Winfrey show, all from her own abilities, JNL is now ready and willing to reveal her key media secrets.
JNL has worked with the biggest names, publications, key media, magazines photography and videographers, giving her a unbridled ability to pull out the best in all she works with. From years of collaborating with other photographers , designer her 3 book covers, and list of swimsuit calendars, and prepping herself to do her own photo shoots , JNL has the gifts and talent to direct you behind the lens!
And yes, the Fitness Model Factory also provides top of the line services for male fitness models and celebrity personalities. For the guys, Team JNL offers service for the fitness model male, up and coming male model, or the guy who just wants to get in shape.
For more info, please visit http://www.FitnessModelFactory.com
###