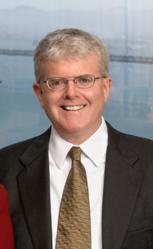 We expect to see the largest transfer of wealth in our nation's history over the next two years.
San Francisco, CA (PRWEB) March 15, 2011
"Now is the time to spread the wealth," says John O'Grady, an estate planning attorney in San Francisco, CA. The 2010 Tax Act increased the amount exempt from estate taxes to an unprecedented $5 million per person and cut the tax rate to 35% for tax years 2011 and 2012. "As a result, we expect to see the largest transfer of wealth in our nation's history over the next two years," he says.
O'Grady, who practices family law in San Francisco, discusses the 2010 Tax Act, and how families can save big dollars through gifting and updating wills and trusts in his new publication, Estate Tax Planning Guide for 2011-2012. The guide can be dowloaded for free from O'Grady Law Group, APC., at http://www.ogradylaw.com/resources.
In addition to the increased exemption amount, other key provisions and considerations include:

Portability: The estate tax exemption through 2012 is portable (transferrable) between spouses—a major new benefit. Under prior law, couples had to utilize bypass trusts and other more complex planning to claim the combined estate tax exemption available to a married couple (now $10 million).
Asset Appreciation: However, if the estate involves assets that will increase in value over time, consider a bypass trust instead of the new portability. Portability freezes the value of assets at date of death value. Assets held in a bypass trust after a spouse dies can appreciate without being subject to estate tax.
Make Gifts Now: The new, higher $5 million estate, gift, and generation skipping tax (GST) exemptions through 2012 mean that now is the time to make gifts to children, grandchildren, and other loved ones with little or no gift tax.
Expect an audit. The IRS will be receiving far fewer estate tax returns now that the exemption amount is up to $5 million. All filed estate tax returns are now likely to be audited.
Old Tax Planning Equals Bad Tax Planning
"The changes in the law mean that wills and trusts created to save money even a year ago, may now end up costing families money," says Mr. O'Grady. "For example, a family may have created sub-trusts in order to save money on estate taxes. Today, that same plan may be extremely costly for heirs, either directly in the form of taxes, or when they are forced to go to court to get out of those sub-trusts," he says.
The probate lawyer in San Francisco notes that, in addition to reviewing wills and trusts because of changes in state and federal tax laws, many other circumstances should also trigger a review of these documents. "These include family changes such as divorce, births and deaths, as well as the death of any person named as your executor, trustee or guardian," says O'Grady. "Additionally, economic and personal changes, such as a big drop or increase in the value of your assets, change in employment, a move outside of California, or purchase of property, may also mean that you need to review your estate plan."
Moreover, O'Grady points out that effectively changing documents such as wills, trusts, and living trusts is not as easy as adding a note in the margin, or striking out words. "These documents can only be changed or revoked through formal procedures," he says. "I cannot overemphasize the need to follow the proper steps for amendment in order to keep your loved ones out of court!"
"The bottom line is that estate tax planning is only effective when it is up-to-date," says Mr. O'Grady. "Most people haven't reviewed their wills, living trusts, or beneficiary designations on assets such as life insurance and retirement plans, in years. Review your estate plan regularly to keep up with current estate law, take advantage of current tax-saving opportunities, and effectively protect your loved ones."
To learn more about updating and simplifying your estate plan, contact O'Grady Law Group, APC. Mr. O'Grady has also written guides on the topics of family mediation, how to discourage an inheritance fight, and how to prevent property tax reassessment. To be notified when new estate tax planning guides are available, contact john(at)ogradylaw(dot)com, to be added to the email distribution list.
An estate planning attorney in San Francisco, CA, Mr. O'Grady regularly speaks on the topic of estate planning. Mr. O'Grady will be presenting "Planning 101 for Older Adults with Memory Loss," on Tuesday, March 22 at 5:15pm at the Commonwealth Club of San Francisco. To attend or to learn more, contact John O'Grady at 415.986.8502 or john(at)ogradylaw(dot)com.
###