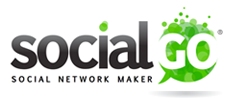 (Vocus/PRWEB) March 22, 2011
Just a few years ago, website building was a specialised field. Businesses and individuals spent hundreds, even thousands of pounds, for programmers and designers to make websites for their companies, brands or personal interests.
Nowadays, however, anyone can create a website, even their own social network. Web geeks, designers and techies need not apply. With new web-platform maker SocialGO, website making — with social networking capabilities included — can be done from your home computer in a matter of minutes. And with basic plans that start at no cost too.
SocialGO offers more than 50 layouts for users to choose from, including minimalist designs with clean, classic lines to arty selections with intricate graphics and bursts of color. Users can also add on specific themes to their new website — from romance to sports, from cityscapes to video games.
From there, users can customise their sites by not just adding simple point-and-click heads with lists of information, but by also treating their website as a social network. Event calendars, blogs, RSS news feeds and member profiles can be added to make a group or company's site as interactive and functional as they'd like.
With the Premium plan £16.99 ($24.99), users can also add high-quality video chat and messaging capabilities — a feature that only SocialGO offers. The Premium plan also lets users monetize their site by adding advertising banners through Google AdSense, or by charging a monthly membership fee or a one-time joiner's fee for entering the social network. You can also make it your own site, with the option to use your own domain and branding. Or upgrade from the premium to the concierge plan, where the team at SocialGO will even build it for you.
And with all our plans, users are in charge of their own security settings when they make a website. SocialGO ensures that all its customers have as much control or as many options as they need to create a site that best fits their goals and desires. Find out how to get started at http://www.socialgo.com today.
# # #