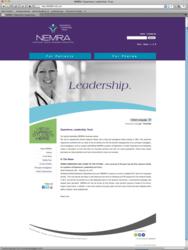 North Dartmouth, MA (Vocus/PRWEB) March 18, 2011
NEMRA, formerly known as Northeast Medical Research Associates, a leader in clinical research, today launched a completely new website designed to optimize usability and educate viewers. The new website http://www.NEMRA-US.com was developed in direct response to the company's branding initiative and to speak candidly to patients and pharmaceutical companies about clinical research. The website launch is a bold step in demystifying clinical research through education and transparency. Both patients and pharmaceutical companies benefit from an intuitive web-based educational resource designed to offer its viewers an experience that is unparalleled in the industry.
The website showcases NEMRA's new corporate identity. The company's new logo and corporate colors symbolize professionalism, vibrancy, innovation and approachability. The design incorporates usability features including ease of navigation with minimal clicks, choice of font size and option to view content in three different languages: English, Portuguese and Spanish. Integrating social media, the website enables visitors to easily share information with links to over 180 social media platforms.
Customized for its key audiences, the website has two main navigation points: "For Patients" and "For Pharma". From either point, visitors are directed to targeted and streamlined content designed to educate and share essential information that leads to informed decisions.
Experience.
With experience dating back to 1955, NEMRA knows that patients and pharmaceutical companies want facts and information before making decisions. The website is designed as an educational tool to meet the fundamental goal of easy accessibility to transparent information about NEMRA's role in clinical research. Patients interact with the website to educate themselves from A to Z reading descriptions of clinical trial Phases I to IV, benefits of participation, patient testimonials and FAQs. Pharmaceutical companies learn about NEMRA's value added services including a talent pool of highly specialized investigators, a state of the art facility, extensive study experience in multi-therapeutic research and areas of specific expertise.
Leadership.
Leading the way in increasing transparency in clinical research, NEMRA virtually opens its doors to the public. Visitors can take a tour and see the results of the company's recent extensive upgrade, which showcases an entire level devoted to Phase I trials. The website details the benefits that pharmaceutical companies realize from NEMRA's recruitment strategies, extensive research experience and modern facilities.
Trust.
NEMRA believes that the best way to combat public misconceptions regarding clinical research is through education and transparency. The new website is designed to build trust by encouraging visitors to open a virtual door and meet the staff, tour the site, read about patient experiences and enroll in a study. Pharmaceutical partners can clearly see the benefits of choosing NEMRA as a site for their clinical trial. The website highlights NEMRA's recruitment strategies, features of the research facility, study experience and sponsor feedback.
NEMRA is committed to its business values: Experience. Leadership. Trust.
Visit the new NEMRA website and see for yourself: http://www.NEMRA-US.com
About NEMRA: NEMRA was founded in 1955 as a research facility under the direction of Dr. Paul Chervinsky, an expert in respiratory diseases, who published over 100 articles on allergy and asthma research. Approximately 20 years ago, Dr. S. David Miller joined the team and gradually expanded NEMRA's capabilities. Under Dr. Miller's leadership, NEMRA has built a solid reputation as one of the leading respiratory research centers in the United States and has expanded its operations to include several other therapeutic areas. NEMRA has conducted clinical trials in the areas of Cardiovascular Medicine, Dermatology, Rheumatology, Osteoarthritis, Headache, Endocrinology, Healthy Volunteer and Drug Interaction Studies. With a fully dedicated site and support staff, NEMRA has been able to translate its very high standard of care in respiratory medicine to these other therapeutic areas. NEMRA now has the capability to conduct inpatient Phase I trials, in addition to their usual Phase II through IV clinical trials. With dedicated research space amounting to approximately 8000 square feet, they have acquired significant experience with all aspects of Phase I to IV trials conducted on behalf of several sponsors. NEMRA is known for the exceptional quality of its services, its commitment to the quality of the patient experience and for its state of the art facility.
Contact:
Sharon Duarte
sduarte(at)NEMRA-US(dot)com
49 State Road
Watuppa Bldg.
North Dartmouth, MA 02747
508-992-7595 X539
855-636-7287
# # #