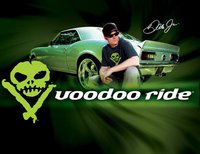 This capability provides consumers with a one-stop shop for their car care needs.
Chicago, IL (Vocus/PRWEB) March 15, 2011
Ordering the top quality car care products online by the ultimate car guy, Dale Earnhardt Jr. just got easier. Voodoo Ride, co-founded by Dale Earnhardt Jr., partnered with Mudd360 to create their new online presence and launched this website.
Voodoo Ride products, dubbed as 'car care unleashed,' are designed to provide excellent car care results in less time and at an affordable rate. These products provide premium care and have great value due to their multi surface application and functionality.
Christopher Ferraro, President and CEO of Voodoo Ride, is very excited to be working with everyone at Mudd360. Ferraro stated, "As a relatively new brand with limited resources, Mudd360 listened to our needs, and brought forward an impressive strategic digital and social media platform that is now the focal point of all our consumer communication, and a key element to building our direct and retail presence."
Voodoo Ride's new site includes both a social and retail environment, giving consumers the opportunity to get to know more about the products and then have the option to purchase their selections directly from the site. This capability provides consumers with a one-stop shop for their car care needs.
"Mudd360 has provided us with a cost efficient, technically superior product that has the ability to grow with our brand," said Ferraro.
Brought to market by Dale Earnhardt Jr., Voodoo Ride is the next generation of car care. To learn more about Voodoo Ride products, visit http://www.voodooride.com.
For 30 years, Mudd Advertising has been a leader in creative marketing and audio-visual production as one of the largest family-owned agencies in the nation. Mudd360 is a forward-thinking division that created "Hypercasting," a patented digital platform that allows Mudd to develop specific strategies before crafting unique advertising campaigns. Mudd360 emphasizes inside analytics that measure each campaign's results. Headquartered in Cedar Falls, Iowa, with a Mudd360 office in downtown Chicago, the Mudd team consists of more than 150 talented, dedicated and passionate individuals who love it when you succeed.
# # #