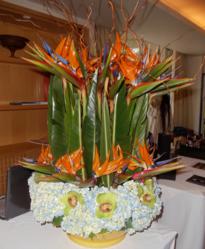 Floral designers will create the most beautiful arrangement possible for your specific occasion.
Melbourne, FL (Vocus/PRWEB) March 15, 2011
For the first time, online consumers can now have their floral arrangements designed for their specific occasion. It's the perfect way to put together a custom arrangement the recipient will love.
For years consumers have been sending and receiving flowers online by selecting an image from a catalog without having a say on the final product, leading to customers often not getting what they expected. This has left many unhappy customers questioning the value of their purchase.
EZBlomers.com is the only website where every arrangement is made-to-order. It's just one of the steps the company has made to improve the online flower-buying process.
"We've found a better way," said Kimba Vasquez, Chief Executive Officer of EZBloomers LLC. "Our made-to-order flowers and our value is unmatched. We're empowering the customer. EZBloomers.com allows them to pay less while getting an arrangement made specifically for their occasion."
At http://www.EZBloomers.com consumers select a sample image that most closely resembles what they have in mind, and then provide details that the florist will use to design an arrangement. There are no commissions or service fees and the money goes toward the final product -- unlike with other big-name national floral retailers. The customer always receives the best value for their money and the highest level of service possible.
"With EZBloomers.com the customer wins and the florist wins," Vasquez said. "It's a new and better way of doing business. Our model differentiates from all other flower sites and we believe that EZBloomers will change the way this industry does business."
At EZBloomers, the creativity and professionalism of the floral designer is able to take over as a beautiful arrangement becomes a reality. The designer always takes into account the current local market availability, freshness of the product and colors when selecting flowers for the final arrangement.
"The images on our website serve as examples to help the consumer determine what they like and because all floral arrangements are designed to your needs, the floral designers will create the most beautiful arrangement possible for your specific occasion," said Vasquez.
EZBloomers.com also provides the best value, because customers never pay fees on their order. The price the customer sees is the price the customer gets. That combination of value and made-to-order flowers makes EZBloomers.com the best place to order flowers online.
About EZBloomers.com
EZBloomers.com is a web service for buying fee free flowers online; we match the customers flower needs with the most qualified local florists across the country.
# # #