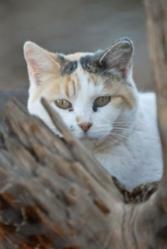 It costs roughly half as much for shelters to sterilize free-roaming cats and return them to managed colonies as it does to euthanize them, which will represent a significant savings to Utah municipalities and counties
Salt Lake City, UT (Vocus/PRWEB) March 14, 2011
A spokesperson for Best Friends Animal Society said the passage by the Utah State Legislature of Senate Bill 57 will help save taxpayer dollars as well as provide humane management of community cat populations. The bill has been sent to Utah Gov. Gary R. Herbert for signature into law.
"It costs roughly half as much for shelters to sterilize free-roaming cats and return them to managed colonies as it does to euthanize them, which will represent a significant savings to Utah municipalities and counties," said Holly Sizemore, interim director of Community Programs and Services at Best Friends Animal Society. "This will help protect thousands of cats that are in organized trap-neuter-return programs around the state."
The bill also will make it easier for people to retrieve lost pets that stray from home and end up in shelters, added Sizemore who is a nationally recognized expert on community cats and the issues related to free-roaming cats.
Senate Bill 57, sponsored by State Sen. Dennis E. Stowell (R-Parowan) allows municipal or community animal control officers to bypass a holding period before being returning to their managed colonies, which are part of a trap-neuter-return program (where felines are captured, spayed/ neutered and released in their original location). The bill also increases the number of days that animals are held in shelters from three days to a minimum of five days.
"This is an example of the same progressive, smart feral cat management that is utilized in many areas of the United States," said Sen. Stowell, "and thanks to Best Friends' leadership on this bill, we'll be able to protect cats the same way here in Utah. TNR reduces the numbers of feral cats and, in the long run, lowers taxpayer expenses."
Previous options for cats picked up by animal control officers were euthanasia or adoption.
"On behalf of Best Friends Animal Society and cat lovers throughout the state, we owe a big debt of gratitude to Sen. Stowell for his willingness to step up and helps us speak out for the animals who cannot speak for themselves," Sizemore said. "We thank him for helping us educate more Utahans about the most modern method of dealing with feral cats."
Best Friends Animal Society, along with other national animal-welfare organizations and thousands of people at the grassroots level, utilize TNR as the best and humane way to control feral cat populations. This proven program accomplishes the following:

TNR promotes public health by reducing the number of unvaccinated cats.
Sterilizing community cats alleviates nuisance propensities, thus reducing complaints from community members.
TNR programs often are supported financially by nonprofit organizations, foundations and charitable individuals. They do not rely solely on taxpayers for funding.
About Best Friends Animal Society®
Best Friends Animal Society is a nonprofit organization: building no-kill programs and partnerships that will bring about a day when there are No More Homeless Pets®. The society's leading initiatives in animal care and community programs are coordinated from its Kanab, Utah, headquarters, the country's largest no-kill sanctuary. This work is made possible by the personal and financial support of a grassroots network of supporters and community partners across the nation.
Become a fan of Best Friends Animal Society on Facebook:
Follow Best Friends on Twitter:
###