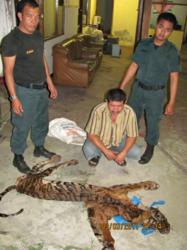 We need to break the smuggling networks that are decimating our Sumatran tiger population, so we have to go as high up the ladder as possible.
Washington, DC (Vocus/PRWEB) March 14, 2011
A suspected tiger smuggler has been arrested in Sumatra, Indonesia, following a three-day operation by the Natural Resource Conservation Agency (BKSDA) in Riau and West Sumatra provinces, with support from World Wildlife Fund-Indonesia's (WWF) Tiger Protection Units. The team also seized the skin of a Sumatran tiger that they believe was poisoned inside a wildlife reserve in Sumatra's Riau province.
After receiving a report on February 28th that a poisoned tiger was found near a wildlife reserve in Indonesia, BKSDA-Riau (Indonesia's equivalent of the U.S. Fish & Wildlife Service) and WWF's Tiger Protection Units conducted a two-day stakeout in order to track the poacher to a high level wildlife smuggler.
"Our goal was not only to help the government arrest the local poacher, but to see if we could track the tiger carcass to someone higher up in the smuggling network," said Chairul Saleh, Wildlife Conservation Specialist with WWF-Indonesia.
"We need to break the smuggling networks that are decimating our Sumatran tiger population, so we have to go as high up the ladder as possible."
BKSDA-Riau tracked a vehicle they suspected of picking up the skin and bones from the poached Sumatran tiger to Balung, a border area located between Riau and West Sumatra. The driver of the vehicle was then seen handing over the tiger skin to the suspect, who is being held in police custody in West Sumatra.
Upon arriving at the suspect's house, investigators located the tiger skin by following the smell of chemicals often used in preserving animal parts. However, the tiger's bones, which are highly valued on the black market for their supposed medicinal value, were not found. Investigators also discovered other wildlife in the house, including a live python and body parts of a Southern Serow (a species of mountain goat) and muntjac, or barking deer, according to BKSDA.
"We believe the suspect has a wide international wildlife trade network as well as across Sumatra; therefore we expect prosecution in this case should be done as soon as possible," said Kurnia Rauf, Head of BKSDA-Riau. "We're ready to help provide the necessary data to help the judicial process of this case, hoping that the maximum sentence can be handed down to deter other poachers."
"The BKSDA teams in Riau and West Sumatra provinces deserve much credit for running a highly professional operation that resulted in the arrest of the suspect without incident on March 3rd," said Suhandri, head of WWF-Indonesia's Riau program.
"WWF strongly urges law enforcment agencies in West Sumatra province to take this case seriously and to seek the maximum penalty to deter this poacher and others. Sumatran tigers are Critically Endangered and poaching is one of the top threats to their survival."
The arrest comes as Indonesia and the other 12 countries with wild tigers embark on implementing the Global Tiger Recovery Program, an initiative launched in Russia last November that seeks to double the number of tigers within the next 12 years. A follow-up meeting, the International Conference on Tiger Conservation, will be held from March 28 – 30 in New Delhi, India.
"As a follow up to the Indonesian Ministry of Forestry commitment in Russia, we're also committed to reducing the threat to the Sumatran tiger population by strengthening law enforcement and stopping Sumatran tiger poaching and illegal trade," said Rauf.
"The Ministry of Forestry is also strengthening its collaboration with partners on the protection of Sumatran tigers in their natural habitat to increase their population by three percent per year as mandated in the National Strategic Plan of Sumatran Tiger Conservation 2007-2017."
There are estimated to be 400 Sumatran tigers left in the wild.
About World Wildlife Fund
WWF is the world's leading conservation organization, working in 100 countries for nearly half a century. With the support of almost 5 million members worldwide, WWF is dedicated to delivering science-based solutions to preserve the diversity and abundance of life on Earth, halt the degradation of the environment and combat climate change. Visit http://www.worldwildlife.org to learn more.
###