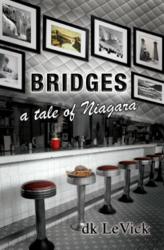 Niagara Falls, NY (Vocus/PRWEB) March 15, 2011
In Bridges: a tale of Niagara, author dk LeVick brings together a series of unique historical events and a group of 1962 teenagers caught up in the complexities of a changing world around them.
When a faded picture from a by-gone era sets in motion a perilous quest, five young men not only encounter harrowing danger in the forbidden, historical laden Niagara Gorge, in the dead of winter, but confront the swirling illusions of the world they knew—changing their lives forever.
For teenagers living in the City of Niagara Falls in the early 1960s, winters were simple. Snowball fights and warm-ups at "Ol' Gordy's" general store, looking at his 'wall of pictures', sipping Cokes and listening to Ol' Gordy's tales of excitement and adventure.
The 'ice bridge' of Niagara, steeped in history, fraught with tragedy, challenged by daredevils, bootleggers and tourists alike, lures them into an exhilarating world of massive ice sculptors, impassable rapids and unassailable walls of ice. After a face-to-face encounter with the mighty Falls itself, they emerge in a struggle of life and death with a Niagara they never knew existed.
Peeling back time, readers will meet the hermit living on the Falls, achieving his quest to become one with it; experience the day the Falls stopped, exploring a riverbed never before exposed – until the water returns in a frenzy; witness slavery through the eyes of a runaway girl riding the "Underground Railroad" – paying the fare to ride that train; and feel the clash between cultures when the path of a drummer boy converges with an Iroquois brave at the "Devil's Hole" massacre.
Bridges: a tale of Niagara is much more than a simple tale of camaraderie and teenage exploits, LeVick combines stories of long-ago with a twist of mystery and revelation connecting to the present. It is a kaleidoscope journey of adventure interwoven with a rich history, stretching across slavery, Indian wars and unique events and people exploring the questions confronting people of all ages.
About the Author: dk LeVick was born and raised in the Niagara Frontier and spent his formative years as a 'river rat' on the upper Niagara. He knew the Falls were to be avoided at all costs—until the day he went down into the gorge and was overcome by the wonder of the river and consumed by the mystery of it.
For more information please call or email publicist Jennifer Herron, or visit: http://www.bridgesataleofniagara.com
# # #