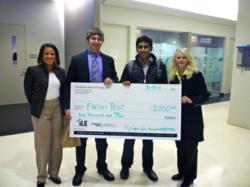 "These young professionals singlehandedly came up with a creative, marketable solution to one of the world's most serious environmental health concerns—food safety." - Dr. Marilyn Black, founder, GREENGUARD Environmental Institute
Atlanta, GA (Vocus/PRWEB) March 15, 2011
The GREENGUARD Environmental Institute is pleased to award $2,000 to a team of budding entrepreneurs whose innovative start-up business reduces environmental waste in the food industry.
The brainchild of four Georgia Institute of Technology students and alumni, the company—dubbed Fresh Test—provides hardware and software technologies that monitor the status of perishable food shipments to lessen the risk of spoilage. According to the Fresh Test business plan, over 30 percent of food is wasted each year due to spoilage in the harvest, transport, logistics, and warehousing of food products. This translates to wasted fuel, water, chemicals, plastics, and other raw materials.
"We really loved the concept behind the Fresh Test business model. These young professionals singlehandedly came up with a creative, marketable solution to one of the world's most serious environmental health concerns—food safety," says Dr. Marilyn Black, founder of the GREENGUARD Environmental Institute. "And that deserves a significant accolade."
Fresh Test's technology consists of temperature and humidity sensors that sit on pallets of food and alert the customer if temperature or humidity levels change. The technology can detect refrigerator doors that have been left open too long, for example, or changes in pH that may affect food quality.
"I'm very passionate about it because I've been in places where there's infant mortality due to malnutrition," says Kumar Thangudu, founder of Fresh Test and an undergraduate industrial engineering student at Georgia Tech. "If we can save food, I think we can have a more sustainable planet."
Managed by Georgia Tech's Institute for Leadership and Entrepreneurship, the annual Business Plan Competition welcomes entrepreneurial students and alumni from all of Georgia Tech's undergraduate and graduate academic programs to compete for monetary prizes in a number of categories. The GREENGUARD Sustainability Award recognizes entrepreneurs whose business plan emphasizes environmental stewardship and offers a practical solution to an environmental crisis.
To view additional photos and an interview with the winners, visit the GREENGUARD Environmental Institute's official blog at http://www.certifiablygreenblog.com.
About the GREENGUARD Environmental Institute (GEI)
The GREENGUARD Environmental Institute aims to protect human health and improve quality of life by enhancing indoor air quality and reducing people's exposure to chemicals and other pollutants. As an ISO-IEC Guide 65:1996 accredited, third-party organization, the GREENGUARD Environmental Institute certifies products and materials for low chemical emissions and serves as a resource for choosing healthier products and materials for indoor environments. All certified products must meet stringent chemical emissions standards based on established criteria from key public health agencies. GREENGUARD Certification is broadly recognized and accepted by sustainable building programs and building codes worldwide. For more information and a complete listing of certified products, visit http://www.greenguard.org.
###