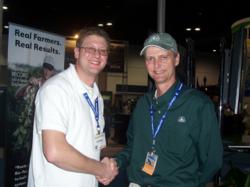 Bio-Forge increases feeder root growth. Roots are the key. Bio-Forge helped us to build a massive root system. We picked up 5 to 7 bushels with that alone.
Houston, TX (PRWEB) March 15, 2011
Reviewing attendance and interest at StollerUSA's 2011 Commodity Classic booth, Stoller's marketing team learned that an increasing number of yield contest winners have added Stoller technology to their crop management programs.
The 2011 Commodity Classic, held in Tampa, Florida last week, brought together 4,300 key large-acreage buyers and the industry's top influencers in the corn, soybean, wheat and sorghum segments of agribusiness. Among the attendees are state and national corn and soybean yield contest winners. Traffic patterns at the Stoller booth showed increased activity and interest with contest winners like Sam Santini of New Jersey (306.49 bu/acre corn), Jim Rodman of Ohio ( 266.9 bu/acre corn), Kip Cullers of Missouri (160.06 bu/acre soybeans – a new world record) and Steve Albracht of Texas (341 bu/acre corn) to name a few.
"The yield contest farmers are Ag leaders," explains Dr. Wayne Smith, plant physiologist and General Manager of StollerUSA. "They are innovating to push yields to the next level. More and more we see Stoller Technology—products like Bio-Forge®—incorporated into the crop management programs of these progressive farmers. They study their crops intensively; they know them well and understand what's going on in them and how Stoller technology can take them to the next level.
Stoller's team of experts was on hand to present the latest field and university data on Stoller products. Newly formulated seed treatment, Bio-Forge ST was introduced at Commodity Classic's What-Is-New (WIN) presentations. Growers learned how farmer demand led Stoller to reformulate their most popular product, Bio-Forge, to create Bio-Forge ST specifically for easy and effective seed treatment applications.
Maximizing the genetic expression of plants, Bio-Forge ST is a proprietary formulation designed to work efficiently with today's seed treaters and provide even coverage on the seed. Bio-Forge ST enhances emergence and promotes seedling vigor, root growth and enhanced nodulation during the stress of germination
"The more feeder roots the more that translates into yield," shares world soybean record holder Kip Cullers. "Bio-Forge increases feeder root growth. Roots are the key. Bio-Forge helped us to build a massive root system. We picked up 5 to 7 bushels with that alone.
Bio-Forge is easy to use and can be applied anytime in the growing season—in-furrow, through irrigation systems or as a foliar treatment. Bio-Forge promotes plant vigor while managing excess ethylene and the stress of extreme temperatures, drought conditions, high plant populations, excess moisture—even herbicide damage. Bio-Forge up-regulates the genes that measurably impact yield and quality, and helps to balance hormones for optimal performance.
"We are a one family operation," explains Steve Albracht, "In order for us to achieve exceptional yields we walk the fields and watch our crops closely. Then we look for new technology that is easy to use and effective…that's where Bio-Forge fit into our program."
StollerUSA is dedicated to helping producers enhance yields by maximizing genetic expression. Only Stoller products contain Stoller's proprietary technology that is proven to ensure optimum plant growth by maintaining appropriate hormone balance in combination with supporting nutrients. Tested by universities nationwide, Stoller's unique formulations result in healthier, more productive crops that are better able to withstand stress and achieve their full genetic potential.
About StollerUSA
Celebrating 40 years in agribusiness this year, StollerUSA markets a full line of products to help farmers increase crop yield and quality. StollerUSA, headquartered in Houston, is actively engaged in basic and practical research to enhance crop productivity in more than 50 countries.
###