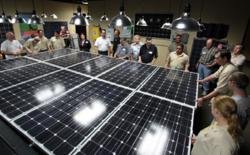 The future is bright for solar in SoCal, indeed!
(Vocus/PRWEB) March 16, 2011
Taught by NABCEP certified installer, Catherine Kelso (030310-124), the class was trained to install solar PV at the home offices and training center of Ambassador Energy in Murrieta, CA.
Several college students from Intercoast College in Riverside CA joined the group of licensed electricians. All were trained on solar electronics and the group installed an actual solar PV system.
The one-day class, Solar for Electricians, includes the following topics:

How Solar Works
What Affects Solar Output
Solar Site Evaluation
PV System Design
Inverter String Sizing
NEC Code for PV
System Grounding
Wire and Conduit Sizing
Over-current Protection
Install a System in the Classroom
Upon completion of the class, the students received a Certificate of Completion from Ambassador Energy for 7 hours of Solar PV classroom training and the installation of a 2.3kW solar PV system.
Ambassador Energy also offers single-day classes in NABCEP Entry Level Prep, Solar for Roofers, Solar for General Contractors, Solar Sales and Jobs in Solar, AutoCAD for Solar, and a growing list of others. Class schedules may be found on the Ambassador Energy website, where online registration is available.
About Ambassador Energy
Ambassador Energy is a solar training and distribution company, with over 50 Authorized Agencies in 15 US states. AE employs two NABCEP certified installers, one NABCEP sales professional and provides a turnkey, consolidated platform of renewable energy training, support, product-agnostic distribution and evolving mindshare to a nationwide network of Ambassador Energy Authorized Agents, who are contractors and entrepreneurs augmenting their portfolios by offering renewable energy solutions to their clients.
Ambassador Energy offers their Agency program to qualified candidates. New Agency Training is offered approximately once every four to six weeks.
###