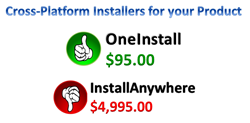 Unlike competing solutions such as InstallShield and InstallAnywhere, OneInstall is available with a flexible, three-tiered pricing mode
FLOWER MOUND, Texas (PRWEB) March 15, 2011
Genuitec, LLC, a founding member of the Eclipse Foundation, today announced its competitive pricing model for the newly-released OneInstall; the first installation Software-as-a-Service solution (iSaaS). OneInstall is a powerful, cross-platform software delivery and installation technology that is used by millions of customers worldwide in select distribution; it is now available to the public for the first time and is priced substantially lower than the competition starting at just $95.
Unlike competing solutions such as InstallShield and InstallAnywhere, OneInstall is available with a flexible, three-tiered pricing model:
For start-ups or small operations that need to get their software to market fast or companies that need to perform "hot fixes" or updates to their deployed software it is just $95 for 15 days of unlimited installer builds. That includes the ability to white label, or fully customize the installer with corporate branding and many other features to provide exceptional customer experience. It is fully supported by Genuitec staff at this price and includes customer analytics of the deployed software. Installers created with this model do not ever expire.
The same power (with included support) is available to organizations that conduct frequent software builds and testing for an annual price of $495.
For enterprises that do not want to worry about Software-as-a-Service (SaaS), the more traditional, perpetual license (or forever license) is available for $995.
All pricing models include updates, powerful use-case analytics through Genuitec's Pulse platform, and are fully supported by a specialized developer help desk.
OneInstall is currently used by Fortune 100 enterprises that deliver their software to millions of users and internal staff. Genuitec uses OneInstall to deliver both its MyEclipse and MobiOne product lines, where it has proved an unbreakable software delivery mechanism that behaves with a level of intelligence not found in other software distribution offerings.
OneInstall seamlessly creates installer solutions for Windows, Mac OSX and Linux.
To review case studies and white papers from Fortune 100 companies that rely on OneInstall to solve their software delivery and management needs please visit: http://www.poweredbypulse.com/pulse_resources.php
Developers can try for OneInstall for free by visiting: http://www.poweredbypulse.com/oneinstall.php
Users of the free version can rapidly test OneInstall with their actual software and see installers built in a matter of minutes that can be delivered to Windows, Mac OSX and Linux operating systems.
More information on Pulse's OneInstall can be found here: http://www.poweredbypulse.com/oneinstall.php
Pricing & Availability
Pulse OneInstall pricing is based on individual requirements and is mentioned above. For those interested in Pulse Private Label, an application lifecycle management technology, please contact Genuitec at: pulse(at)genuitec(dot)com. Or call: 1 (214) 224-0461
About Genuitec
Genuitec, LLC, is an Eclipse-based company offering innovative Java and J2EE development tools. Genuitec offers training and expert consulting and development services for the Eclipse SDK and Rich Client Platforms. An original sponsor of Eclipse Plug-in Central, Genuitec joined the Eclipse Foundation early in 2003 and is currently supporting Eclipse as a strategic member on the Foundation's board of directors. Genuitec LLC was founded in 1997 and is headquartered in Flower Mound, Texas.
Genuitec, Pulse, PoweredByPulse, and MyEclipse are trademarks of Genuitec, LLC. InstallShield and InstallAnywhere are registered trademarks of Flexera Software, Inc. All other brand or product names may be trademarks or registered trademarks of their respective companies and should be treated as such.

Please follow the latest Pulse news by joining @PoweredByPulse on Twitter.