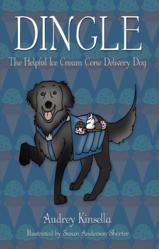 "While being independent is good, resisting asking for or accepting help isn't always productive," says Kinsella. "Life really can be made more comfortable by accepting help from others."
Asheville, N.C. (Vocus/PRWEB) March 17, 2011
In an era of independent, fast-paced lives, learning to accept assistance is often more difficult than offering help.
In her new book Dingle: The Helpful Ice Cream Cone Delivery Dog, author Audrey Kinsella brings readers the story of Dingle, a friendly black Labrador, and his wheelchair-bound, independent-minded owner, Aunt Reeny. As Aunt Reeny struggles with acknowledging her inabilities, Dingle seeks to help her with daily tasks, ultimately illustrating the importance of help.
"While being independent is good, resisting asking for or accepting help isn't always productive," says Kinsella. "Life really can be made more comfortable by accepting help from others."
Inspired by her personal battle with rapidly progressive multiple sclerosis, Kinsella admits that as an independent individual who was once the person offering help, accepting assistance was quite a difficult and humbling experience.
"I gritted my teeth," she says. "For years, I never asked for help."
Addressing the importance of both giving and accepting help, Dingle encourages both the elderly and disabled to be more comfortable in asking for assistance. Through colorful illustrations and a clever storyline, young readers are motivated to help others as they watch Dingle the dog save the day.
"Learning to give and take is a two-way street," says Kinsella. "But learning to navigate that street can really add to the quality of life. Learn it and move on."
For more information, visit http://dingleenterprises.com/.
About the author
Audrey Kinsella is a research director and lead writer for Information for Tomorrow, an organization that specializes in home telehealthcare program planning services. She is the former director of information services for high technology programs at the National Rehabilitation Hospital in Washington, D.C.
Kinsella holds a bachelor's degree in English and Canadian studies and master's degrees in both English literature and library and computer science. She also holds an executive certificate in home modification and planning for the elderly and disabled, and has written many healthcare articles and books on the elderly and disabled in the past 20 years. She resides in Asheville, N.C.
EDITORS: For review copies or interview requests, contact:
Jessica Kiefer
Tel: 317.602.7137
Fax: 317.536.3775
Email: jkiefer(at)bohlsenpr(dot)com
(When requesting a review copy, please provide a street address.)
# # #