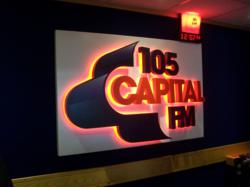 "Having worked with Signs Express in the past, they were the obvious choice to undertake the rebrand of the office from Galaxy to Capital.
(Vocus/PRWEB) 16 March 2011
One of the UK's largest independent commercial radio stations, Capital FM called again on the services of Signs Express (Leeds) to provide their new signage following the switch from Galaxy to Capital FM.
Providing not only the main station signage internally and externally, Rick and his team from Signs Express (Leeds) have also provided the illuminated sign systems for the station's studios. Following the traditional red box 'on-air' system the new LED's installed inside built up aluminium letters, have been automatically programmed to work with the studio set-up turning from white to red when live so that the Presenter, Visitors and other Production Members working in the Studio can always be certain when the Radio Station is on and off air. The sign is situated in a key spot in the studio providing a great backdrop for the studio and is a real feature point.
"Having worked with Signs Express in the past, they were the obvious choice to undertake the rebrand of the office from Galaxy to Capital. They provided me with lots of different creative option, which were all on brief for the project. We are really pleased with the finished office, it looks great!"
Mel Wills - Marketing Executive, 105 Capital FM
As well as the clever on air illuminated studio signs, the team at Signs Express also provided a range of signs for the radio's main reception area. Frosted vinyl was applied to areas of glass, an important safety feature as well as being decorative. Foam PVC wall displays have been created, showing each of the station's radio brands operating under the Global Radio Services Ltd.
A large backdrop has been manufactured for the studio building, providing an area perfect for photo opportunities with visiting celebrity guests, corporate and social events as well as reinforcing the brand. With removable and repositionable vinyl logos it can be adapted for numerous uses.
A key supplier to the studios, expert signs and graphics supplier Signs Express were delighted to be commissioned by the radio station again. "We have built a great working relationship with Capital FM' comments Rick Nurse at Signs Express. 'The lead time was very tight, down to 5 working days to produce the signs. We worked closely with the Capital FM marketing team liaising on access to the studios and ensuring they were kept up do date with our schedule of return site visits.'
Signs Express (Leeds) is part of the UK & Ireland's largest sign company which has over 80 centres nationwide. Signs Express is a member of the British Sign & Graphics Association and more information can be found on http://www.signsexpress.co.uk/leeds or by calling 0113 243 6711.
###