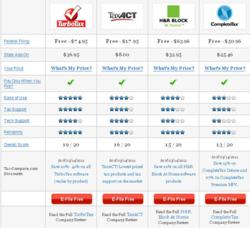 We're excited that Tax-Compare.com significantly gained popularity this tax season. The web site has helped thousands of people both calculate the cost of filing their federal and state taxes while also connecting the shopper with a tax product
Austin, TX (Vocus/PRWEB) March 17, 2011
Leading income tax software review and comparison web site, Tax-Compare.com, builds on past successes connecting site visitors with appropriate tax filing products, and sees a 300 percent increase in web site traffic, sales, and leads over the past year. Up-to-date reviews of top brands including H&R Block, Complete Tax, TaxAct, and TurboTax are featured on the portal that include the latest discounts and tax coupons for shoppers.
Unlike other comparison websites, Tax-Compare.com does not focus solely on clients that require the highest priced tax preperation software. All featured tax products include free 1040 EZ submission services for shoppers who do not require itemization of the current year's taxes. For shoppers with more complex tax situations, featured reviews offer discounts of 20-40% off of normal service prices.
Trying to identify the best tax software can be a challenging task for shoppers due to the large number of features that are available. The Tax-Compare.com review portal focuses on common comparison criteria such as the ease of use, tax support, tech support, reliability, accuracy guarantees, and maximum refund guarantee to help shoppers find the best product for the specific individual or business tax situation.
Jen Udan, Tax-Compare.com site manager states,"We're excited that Tax-Compare.com significantly gained popularity this tax season. The web site has helped thousands of people both calculate the cost of filing their federal and state taxes while also connecting the shopper with a tax product that meets their needs."
Tax-Compare.com staff continue to seek out the latest discounts and tax coupons for shoppers through the end of the 2011 tax season. Product reviews continue to be revised until the current tax year closes out and consumers begin to focus on 2012 taxes.
About Tax-Compare.com:
Tax-Compare.com was established in 2008, and is serving customers for their third consecutive tax year. The company provides an "apples to apples" comparison of the best tax software products. In addition to publishing price and comparison data to help customers select the best tax filing product, Tax-Compare.com also includes a price calculator to forecast the cost of filing taxes with the brands reviewed on the web site.
Contact Details:
tax-compare.com
401 Congress Ave Suite 1540
Austin, TX , 78701
Phone No. 512-448-9031
Website: http://www.tax-compare.com/
###