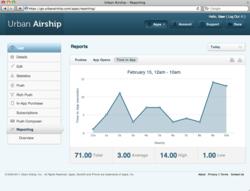 Portland, OR (Vocus/PRWEB) March 16, 2011
Today, Urban Airship, provider of a mobile services platform that helps marketers develop more engaging and profitable mobile apps, announced that its CEO and co-founder Scott Kveton will be speaking at the CTIA mobile event – Mobile Web & Apps Forum.
Key Facts:

Kveton's panel, entitled "Supersession: Development, Marketing and Monetization of Mobile Web and Apps," will be held on March 21, 2011, at 10am at the Orange County Convention Center in Orlando Florida. During the discussion, Kveton will discuss the many opportunities for mobile content providers to increase monetization and earn recurring mobile app revenue.
Kveton will join panelists from RealNetworks, Snapfinger, Scoreloop, and futuretext to discuss effective strategies to create and leverage the mobile channel to increase revenue. They will explain what works, what doesn't and best practices.
The discussion will take place in the Mobile Web & App Forum, an event within CTIA that brings together top minds from around the world to discuss how to develop, market, deploy and monetize mobile web and applications. This year's theme is "The Rise of Mobile Social Commerce."
Urban Airship Facts:

Urban Airship helps mobile app makers including Tapulous, Gowalla, Living Social, Groupon and Mashable engage mobile users on iOS, Android and BlackBerry with push notifications, next-generation, rich-media mobile messages and content delivery.
In just two years, Urban Airship has secured more than 10,000 customers and has delivered more than 2.4 billion mobile messages to more than 100 million devices across the Apple iOS, Android and Blackberry platforms.
The company recently announced two new products – Urban Airship Composer and Urban Airship Reports. Both were designed to help put the power of mobile messaging directly into the hands of marketers to make their mobile app campaigns more engaging, profitable and relevant to their business objectives.
Supporting Resources:

About Urban Airship
Urban Airship powers the world's most successful mobile apps. Providing breakthrough technology, Urban Airship makes mobile marketing far more engaging, effective, and efficient. Top brands depend on Urban Airship to ensure their mobile app initiatives are scalable and profitable. Verizon, Dictionary.com, Tapulous, and Warner Bros. are just a few of the thousands of companies that utilize Urban Airship's innovative platform to reach and engage target audiences - and increase app revenue streams. Urban Airship puts the power of influence in marketers' hands through push notification, rich messaging, in-app purchases and data tracking with a cross-platform offering. The privately held company is based in Portland, Oregon. For more information, visit urbanairship.com.
# # #