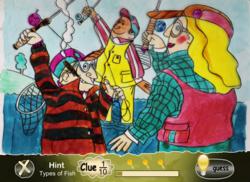 (Vocus/PRWEB) March 16, 2011
Hammer Productions announced today the release of their new iPad app, Discovery Game, created by Mobile App Developer Zco Corporation. The application's premise is to unveil and identify hidden objects within a picture puzzle by removing layers of the puzzle. For each layer a player removes, the concealed object becomes more visible. Utilizing the iPad's full screen, this retro classic game makes for great family fun on the go!
Discovery Game offers several levels of retro cartoon puzzle pictures. Each puzzle gives a hint about the object hidden within the picture puzzle. The hidden objects can include small mammals hidden under an apple orchard or a beverage covered within a backyard scene. When a player takes a guess, a predetermined list will appear on the screen to reveal clues relevant to the hidden object. Players can guess up to three times per picture. However, three strikes and the player is out! Find the object while pulling the least amount of layers and win!
Discovery Game boasts captivating, cool retro picture puzzles and vibrant colors. Download this fascinating game and enjoy the thrill of uncovering hidden objects from complex picture puzzles. It is challenging, yet refreshing and engages players of all ages. The Discovery Game app is available for only $0.99 from the App Store on your iPad or at http://bit.ly/huIbvY. For additional information on Discovery Game including screen shots and a video demo, go to http://www.hammer-productions.com/Home.html. For interest in Zco Corporation's Mobile App Development services please visit http://www.zco.com.
###