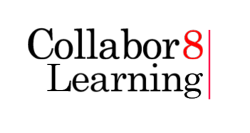 THINK Social
Miami, FL (PRWEB) March 17, 2011
Collabor8 Learning, LLC, a human resources and instructional design consulting firm based in Miami, FL, announces the launch and immediate availability of custom-designed private-label social networks. These private-label social networks supplement internal communications for members of an organization to interact, share ideas, communicate and collaborate.
A custom private-label social network is designed and branded with your organization's existing brand standards and tailored to meet your goals and requirements.
Through the use of employee profiles, personal connections, team pages, question forums, blogs, bookmarks, photo and video sharing, an organization can enable their people to digitally collaborate using social networking technology. Additionally, all information in the network is owned and controlled by the organization, behind their firewalls and security measures, ensuring the organization maintains full control of their social network and who accesses it.
"While many are just beginning to look at how to incorporate social learning and networking into their business, we have the platform ready to go, with the control and security our clients' demand for their organization," according to Collabor8 Learning's Managing Partner, Steven Hornak. "This will be integrated into your organization's network and allow you to engage employees and clients, support informal learning opportunities, improve communications and greatly reduce time to competency when on-boarding new hires. It has many of the same features of the more popular social networking sites but with one big difference – it is built for you, to your specifications, and to meet your exact needs."
About Collabor8 Learning
Based in Miami, Fl., Collabor8 Learning blends informal learning solutions with more traditional learning designs such as self-directed e-learning and instructor led training to help you develop your organization's strengths. Collabor8 Learning builds private-label social networks, which enables your employees to share, connect, teach and learn from each other.
Collabor8 Learning's management team has over 40 years of combined HR, instructional design and training experience servicing the retail, wholesale, consumer electronic, automobile, legal, financial and military industries. Their programming team has been developing social networks for almost a decade and plays a major part in the community of developers building the next generation of social networking software.
For more information about Collabor8 Learning, visit our website at http://www.collabor8learning.com or for press inquiries please call 786-512-1069.
###