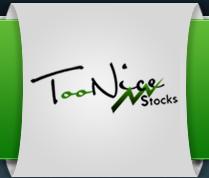 If the significant clinical improvement in present data is a harbinger of future results, YM Bioscience will likely present positive data at the ASCO 2011 further validating CYT387 potency.
(Vocus/PRWEB) March 16, 2011
TooNiceStocks research has unveiled YM Biosciences Inc. has been the focus of attention from retail to institutional investors. TooNiceStocks found Institutional holdings currently accounts for 43% of the approximately 110 million outstanding shares. This shows the confidence in the company's pipeline specifically CYT387, for the treatment of Myelofibrosis. Myelofibrosis is a proliferation of an abnormal type of bone morrow stem cell producing collagenous connective tissue fiber replacing the marrow caused by a dysregulation in the JAK signaling pathway. The importance of CYT387 can be inferred from its Orphan Status Designation granted by the U.S. Federal Drug Administration. YM BioSciences Inc. plans to present CYT387 multi-center interim Phase I/II data at the American Society of Clinical Oncology early June 2011.
Digging deeper into YM BioSciences Inc. bullish investor interest:
TooNiceStocks discovered that the company has 3 drug candidates in their pipeline all with multiple applications to various diseases. In this article, the focus will be on CYT387. The lack of approved drug treatment and with an estimated Myelofibrosis market of $200-$300M will incentivize companies to pursue this avenue of research. TargeGen, S*BIO, and Incyte are all currently developing drugs for Myelofibrosis. Although there are numerous companies conducting similar research, Incyte's INCB018424 is the closest competitor in terms of mechanistic targeting of both JAK1 and JAK2 proteins. Comparative analysis between the two drugs demonstrates CYT387 has the distinct competitive advantage, in efficacy. While both drugs have similar efficacy in alleviating constitutional symptoms, the important clinical improvements in Splenomegaly and Amenia data favors CYT387. INCB018424's clinical improvement of Splenomegaly was 44% (61 of 140 patients) with 35% reduction in spleen volume versus CYT387's 37% (11 of 30 patients) with greater than 50% decrease in spleen size. Anemia response rate for INCB018424 showed 14% (4 of 28 patients) versus CYT387's 41% (9 of 22 patients). 1 Although the data suggest CYT387 to have a higher efficacy, due to the low sample size of 39 patients the data should be interpreted within context. Nevertheless, the results are amply promising for YM BioSciences to expand Phase II enrollment to 140 patients. If the significant clinical improvement in present data is a harbinger of future results, YM BioSciences will likely present positive data at the ASCO 2011 further validating CYT387 potency.
Dr. Nick Glover, President and CEO, recently stated "We have also initiated preliminary discussions with potential partners… to further develop and/or commercialize CYT387, encouraged by the fact that four major partnerships for other JAK inhibitors have been signed in the last 18 months." TooNiceStocks in house biotech analyst agrees optimistically with Dr. Glover, "YM Bioscience should have no problem finding a partner, especially with CYT387 being differentiated from other JAK inhibitors. CYT387 is the only drug demonstrated to have an Anemia response rate." In the meantime, the company has $73M cash at hand with an average monthly burn rate of $1.8M. They will have sufficient cash to conclude their clinical trials.
TooNiceStocks opinion on the recent institutional investments into YM BioSciences substantiated the company's potential growth in drug development and share price. As YM BioSciences continues to develop and report positive clinical data for CYT387, a partnership will eventually manifest in the near horizon. Furthermore, if CYT387 proves to be successful in treating Myelofibrosis, it will have the potential to treat other Myeloproliferative diseases, an estimated market value of $1-$2B. With everything going right for YM BioSciences, the long-term up trend will surely continue. However this is the market, anything is possible.
Thanks,
http://www.TooNiceStocks.com
"Finding Value in the Undervalued"
Every week we have our very popular technical reports. Become a PREMIER VIP MEMBER NOW! We work hard in researching companies in all exchanges. Please join us for DAILY CHATTER! QUESTIONS??? ASK US @ TWITTER & FACEBOOK REAL TRADERS + REAL RESEARCH.
TooNiceStocks.com in no way has been compensated for advertising, marketing or profiling YM BioSciences Inc., rather we have initiated our own independent research. The data stated in our research article is derived from publicly disseminated information. None of the profiles issued by TooNiceStocks.com, constitutes a recommendation for any investor to purchase or sell any particular security or that any security is suitable for any investor. Any investor should determine whether a particular security is suitable based on the investor's objectives, other securities holdings, financial situation needs, and tax status. Examples presented on TooNiceStock.com website are for educational purposes only. Such set-ups are not solicitations of any order to buy or sell. Accordingly, you should not rely solely on the Information in making any investment. Rather, you should use the Information only as a starting point for doing additional independent research in order to allow you to form your own opinion regarding investments. Please note well that TooNiceStocks.com employees are not Registered as an Investment Advisor in any jurisdiction whatsoever. Full disclaimer can be read http://www.toonicestocks.com.
###