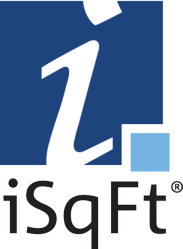 This is a big year for us-- probably the biggest in a lot of respects.

-Dave Conway
President and CEO, iSqFt
Cincinnati, OH (Vocus/PRWEB) March 17, 2011
iSqFt has announced that it will be an exhibitor at CONEXPO-CON/AGG in Las Vegas, from March 22–26, saying that it has several exciting things to show anyone who stops by.
"This is a big year for us--probably the biggest in a lot of respects," says iSqFt President and CEO Dave Conway. "This year we launched an all-new application, iSqFt 10, a new takeoff tool called iSqFt Takeoff, and we've updated our brand and corporate website. Like I said, we've got a lot going on."
Conway has a reason to be proud of iSqFt 10. In addition to recently winning the Constructech Top Products award, iSqFt's customers are thrilled with the update. "I'm humbled by the level of contribution we've gotten from our customers, and the way you honor that feedback is to create the product they're asking for. iSqFt 10 is that product. I think our customers have embraced it because they can see that it wasn't built in a vacuum."
As for their brand and new website, Conway says they're all part of a larger strategy. "We've spent the past 10 years becoming the company we are today, building our customer base one at a time, and this new branding reflects who we are now."
When asked what attendees of the CONEXPO show will see when they stop by the iSqFt booth (Hilton Center: #H-31311), Conway smiles and says, "They'll see how they have impacted the future of construction software."
iSqFt will be exhibiting at the CONEXPO-CON/AGG between MARCH 22-26, in booth H-31311 in the Hilton Center. http://ceca11.ceca.mapyourshow.com/3_0/exhibitor_details.cfm?exhid=1002466&markcamefrom=y
About iSqFt:
Founded in 1993 as Construction Software Technologies, Inc., Cincinnati-based iSqFt is the construction industry's leading provider of online bid solicitation and preconstruction management services in the United States.
Through strategic partnerships with the Associated General Contractors of America (AGC), local AGC chapters and other industry organizations, the firm provides tens of thousands of general contractors, subcontractors, and suppliers in markets around the U.S. with online tools and solutions that help them increase competitiveness through reduced costs and increased efficiency.
iSqFt is also a proud member of U.S. Green Building Council and is committed to the practices of sustainable design and construction.
For more information about iSqFt and its applications, visit http://www.iSqFt.com.
###