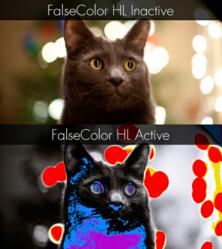 Our goal is to deliver free customer driven enhancements every six to eight weeks
Apex, NC (Vocus/PRWEB) March 23, 2011
Once again, SmallHD delivers new functionality to its 5.6" (1280x800) DP6 high definition, on-camera field monitors via a user-downloadable firmware update (V1.3).
"Our goal is to deliver free customer driven enhancements every six to eight weeks. These upgrades extend the value and functionality of our products long after the initial sale," says Dale Backus, Co-Owner and Lead Product Designer. Backus continues, "Every customer suggestion gets logged and evaluated for future implementation. Our goal is to deliver the most requested features as soon as possible."
SmallHD DP6 Version 1.3 features include (V1.3 Video Overview):

High/Lo False Color Exposure - This version of false color presents a sharp, easy-to-focus, grayscale image except when there is the potential for data loss via over/under exposure of the recorded image. This gives the shooter the ability to keep the image properly exposed without the distraction of a more detailed False Color implementation. This can be particularly useful in run-and-gun shooting situations.
⁃ Purple: IRE < 0
⁃ Blue: IRE 0-2
⁃ Grayscale: IRE 3-97
⁃ Yellow: IRE 98-100
⁃ Red: IRE > 100

Movable 1:1 Pixel Mapping - For video sources higher than 720p, the scroll wheel can now be used to pan within the high-res image, improving the ability to achieve and maintain critical focus when the subject is not centered in the frame.
Independent Image and Menu Flip - This allows greater mounting flexibility when the camera systems, such as those using 35mm lens adapters, present an inverted image.
Nikon Preset - SmallHD developed a custom preset that maximizes the viewable screen size when using a Nikon DSLR, such as the D7000. [Nikon Preset Video ]
For more information about the DP6 product line see http://www.smallhd.com.
Additional educational videos are found at http://www.smallhd.com/videos
Nikon is a registered trademark of Nikon Corporation
###