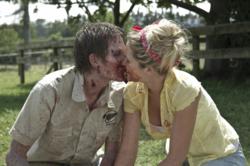 (Vocus/PRWEB) 16 March 2011
Zombies are having something of a moment. Take a TV show like Frank Darabont's The Walking Dead. Based on a series of comic books by Robert Kirkman, Tony Moore and Charlie Adlard, The Walking Dead shows a dystopian world over-run by zombies, through the eyes of a scraggly band of survivors trying to stay alive amid the blood and guts.
Then there are 28 Days Later and its sequel 28 Weeks Later, Spanish cult horror hit Rec, which was remade into Quarantine and the Will Smith vehicle I Am Legend (admittedly about vampires, but the vamps were more like zombies). In literature, there is Justin Cronin's The Passage, the first of a planned trilogy…again about a world overrun by the re-animated dead.
So it's no surprise that Advanced 3D students at New Zealand's Media Design School also had zombies on the mind when they started tossing around ideas for their big class 3D short. The result is Rotting Hill, a short film that pays tribute to the zombie genre.
The one-day shoot was set out in West Auckland, and Rotting Hill is described by 3D course leader James Cunningham as a 'zombie rom-com', starring none other than Kiwi actress Anna Hutchison (Go Girls, Shortland Street, Underbelly) and Australian actor Jason Smith (Home & Away, Legend of the Seeker).
Looking fetching in yellow on the day, Anna was a total pro in front of the cameras and talked to us a little bit about where she's heading next, and why she was eager to help out a bunch of 3D animation students during her limited break from auditions and projects. Exclusive interviews with the students, actors and a making-of video will be available once the film is released.
The students and tutors also got into the spirit of the day, from smearing each other with fake blood and setting up scenes, to making 'human guts' out of purple jelly and sausage casing.
Rotting Hill is still in post-production at the moment, but the whole school is very excited to see the final result…especially after the success of other Media Design School short films made by previous Advanced 3D students such as First Contact, Das Tub and Slightly Fishy.
Media Design School is New Zealand's leading private tertiary provider for digital design. The school recently joined the Laureate International Universities network, a trusted global leader in providing access to high-quality, innovative institutions of higher education.
For more information and a film release date, please view our blog, http://www.mediadesignschool.com/blog/
###