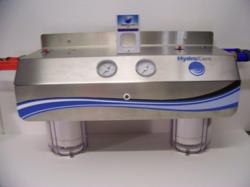 Business opportunity with in demand product line
(Vocus/PRWEB) March 22, 2011
Wave Home Solutions offers proprietary superior solutions for the home that include ventilation for moisture control, air quality purification, limescale elimination and water purification. The products are unique, patented and advanced technologies that are revolutionizing the industry and are replacing the current solutions. They are affordable, energy efficient, easily integrated into a home and are maintenance free. The business model has been extremely successful and Wave Home Solutions is offering Preferred Dealerships in all markets for motivated entrepreneurs.
Wave Home Solutions business has all the criteria for success:

Competitive Edge: The Wave Ventilation units surpass in performance and efficiency the energy guzzling, troublesome, inefficient dehumidifiers. The HydroCare module offers an easy environmentally friendly and more efficient means of eliminating limescale as opposed to salt based water softeners. The Dual Water System integrates the most advanced water purification medias together with HydroCare for the elimination of limescale; into one compact unit.
Excellent Return on Investment: With the products, the homeowner will realize substantial reduction in energy costs and appliance life that will pay for the equipment within 1-2 years and ongoing savings for many years. They are affordable, easy to install, maintenance free, and will last for many years.
High demand: Water issues are prevalent across the country and dealing with it is a billion plus dollar business. Homeowners' heightened awareness of water quality issues motivates them to invest in the technologies that assure them that they are drinking clean, fresh, healthy water that is also trouble free from limescale. Over 80% of homes with crawl spaces and basements have moisture related problems and poor air quality. They are the least ventilated areas and as a result tend to accumulate polluted damp air. This "bad" air will lead to mold, proliferation of asthmatic triggers, and air quality issues that will affect the entire house.
Strong company support: Wave Home Solutions has a 10 year plus record of success, building the brand and solutions. The company provides extensive training, marketing and advertising materials with ongoing service and customer support.
Eco Friendly: All of the products meet the demand for environmentally friendly solutions that are effective and financially sensible.
Recession proof market; long term growth market: Every homeowner is concerned with their health and the overall environmental quality in their home. The problems with air and water are part of the natural everyday conditions and the demand for effective solutions will always be there. Home improvement decisions are not just aesthetic or comfort related, but more importantly they are motivated by the health of the occupants and the deterioration of the value of the home. The demand and growth for affordable easy and effective solutions is ongoing. It is not an impulse acquisition but rather a need based decision.
Wave Home Solutions has all the components for an entrepreneur with commitment and experience that realizes the opportunity to be successful and profitable in a growing business model.
Wave Home Solutions, based in Oceanside NY is the US distributor for HydroCare and the Ventilation Products. Wave Home Solutions is a full support company providing training, technical support and marketing assistance. The company's product lines consist of patented proven superior technologies for water and air quality issues that are environmentally friendly, easy and affordable.
Go to the website http://www.wavehomesolutions.com for information.
Wave Home Solutions
3670-3 West Oceanside Road
Oceanside, NY 11572
800.293.9577
http://www.wavehomesolutions.com
# # #