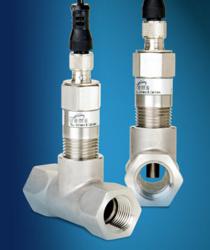 Plainville CT (Vocus/PRWEB) March 16, 2011
Gems® Sensors & Controls™ (Gems), a global leader in liquid level, pressure, and flow sensors, miniature solenoid valves, and fluidic systems announced the launch of the new FS-600 Series "no-moving-parts" flow switches for OEM applications.
The FS-600 is a robust flow switch made from durable stainless steel that works with both conductive and non-conductive fluids. Suitable for fluids with large particles and slurries, the solid-state sensor is immune to changes in viscosity. With the use of thermal dispersion technology the FS-600 will provide years of dependable worry-free service even in applications without filtration.
The FS-600 is available in various housings to suit a wide variety of pipe sizes for flow rates from .1 to 10 GPM at an affordable price. The straight through switch is designed for a long life and can be mounted in any orientation. The FS-600 can be customized with any set point based on specific customer applications.
"The FS-600 is a robust solution for customers using traditional flow switches with moving parts," says Kevin Castonguay, Product Marketing Manager for Gems Sensors & Controls. "Because there are no moving parts to jam, wear or break, the FS-600 flow sensor eliminates maintenance issues. Finally, a no moving parts flow switch is available at OEM pricing."
Full technical information for FS-600 Series flow switches may be found online:
http://www.gemssensors.com/Content.aspx?id=6791
About Gems Sensors & Controls
Founded in 1955, Gems is a preferred supplier to thousands of OEM companies across a broad range of industries through out the world due to its extensive application knowledge, innovative sensor and miniature solenoid valve designs, and customer centric approach to problem solving to meet customer-specific needs. Gems Sensors & Controls is a leading global manufacturer of: liquid level, flow, and pressure sensors; solid-state relays and barriers; liquid and pneumatic miniature solenoid valves; and pre-assembled fluidic systems with facilities in North America, Europe, and Asia. Gems Sensors & Controls is ISO 9001, ISO 13485, UL, and CE certified.
For more product information, contact Gems Sensors & Controls, One Cowles Road, Plainville, Connecticut 06062. Phone: (800) 378-1600. http://www.GemsSensors.com
# # #