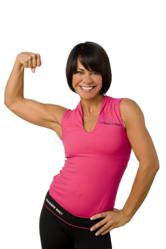 Carlsbad, CA (Vocus/PRWEB) March 16, 2011
Protein industry leader DESIGNER WHEY is proud to announce Ali Vincent, the First Female Winner of The Biggest Loser DESIGNER WHEY Spokesperson will make an appearance at The Biggest Loser Casting Call in Venice Beach, CA on Saturday, March 19th between 10am-4pm.
Ali will meet and greet hopeful contestants and handing out Biggest Loser Products including: Biggest Loser Protein 2GO® paks and Biggest Loser Protein Bars.
Contestants of The Biggest Loser use The Biggest Loser Protein by DESIGNER WHEY in their quest for better health on the show and in their everyday lives after the Ranch. Licensed by NBCUniversal Television Consumer Products Group, The Biggest Loser Protein by DESIGNER WHEY is available in Red Raspberry, Chocolate Deluxe, and Vanilla Bean 10 oz canisters.
Biggest Loser Protein is also available in convenient, single serving packets. The Biggest Loser Protein 2GO® comes in Lemonade or Red Raspberry. It mixes easily with a bottle of water and is perfect for the "on-the-go" lifestyle.
New All Natural Biggest Loser Protein Bars in Vanilla Almond and Honey Peanut are another deliciously, convenient snack that Helps Halt Hunger Between Meals™.
Details of the event are as follows:
The Casting Call will take place on Saturday March 19 from 10:00am – 4:00pm at:
The Boys and Girls Club of Venice
2232 Lincoln Blvd.
Venice, CA 90291
About The Biggest Loser
The Biggest Loser, now in its 11th season, airs Tuesdays on NBC at 8:00 p.m. (ET/PT). The first reality series where everybody loses, The Biggest Loser challenges and encourages overweight contestants to shed pounds in a safe and recommended manner through comprehensive diet and exercise as they compete for a grand prize of $250,000. Hosted by Alison Sweeney, the series provides the contestants with challenges, temptations, weigh-ins and eliminations until the final contestant remains to claim the title of The Biggest Loser. Each team works out under the supervision of professional trainers Jillian Michaels and Bob Harper. The Biggest Loser is a production of Reveille LLC, 25/7 Productions and 3 Ball Productions.
Beyond the U.S. where more than 100 episodes of the show have aired, The Biggest Loser has become a worldwide hit appearing in over 90 countries and produced in 25 countries. Since its debut in 2004, The Biggest Loser has grown to become a standalone health and lifestyle brand by developing tools and products inspired by the show and approved by its doctors and experts. Anchored by the online, subscription-based extension of the show, Biggestloserclub.com, The Biggest Loser consumer products program has generated over $100 million in spending, with presence at more than 25,000 major retailers to date. The program currently features a wide variety of health and fitness products including The Biggest Loser video game for Wii and Nintendo DS & DSi, The Biggest Loser Resort at Fitness Ridge, which is a full-service, destination health & fitness spa, The Biggest Loser Meal Plan, a New York Times best-selling books series, a best-selling fitness DVD series, a line of appliances, fitness equipment, protein supplements and several other health and lifestyle based products.
The Biggest Loser was recognized as a top brand of the year in Advertising Age's 2008 Marketing 50. Check out http://www.biggestloser.com for more information.
About NBCUniversal Television Consumer Products Group
NBCUniversal is a leader in providing entertainment programming to the domestic and international marketplaces. NBCUniversal Television DVD, Music, and Consumer Products Group manages all global ancillary television business endeavors for the NBCUniversal Television Group, including third-party home entertainment distribution, consumer products, musical soundtracks, special markets projects and the NBCUniversal Online Store. For the latest product updates and an overview of the properties managed by the group, visit the NBCUniversal Television Consumer Products portal at http://nbcuconsumerproducts.com .
About Reveille
Reveille is part of the Shine Group, one of the world's foremost multinational entertainment and drama companies. A leading independent studio focused on exploiting worldwide intellectual property rights in scripted and unscripted television and digital entertainment, Reveille is also a world leader in creating integrated marketing opportunities for advertisers. Reveille is known for popular and award-winning hit series including MASTERCHEF, THE BIGGEST LOSER, THE OFFICE, THE BURIED LIFE, UGLY BETTY, THE TUDORS, TABATHA'S SALON TAKEOVER, SHEAR GENIUS and PARENTAL CONTROL. Reveille has partnerships with both Microsoft and Yahoo! to develop original online series for brands. Web series include WHO KNEW? for Toyota, FIT TO BOOM for Subway, IT'S EVERYBODY'S BUSINESS WITH JACK AND SUZY WELCH for Microsoft and REAL LIFE MAKEOVER for Walmart. Upcoming television series include the highly anticipated return of Paula Abdul to television with LIVE TO DANCE on CBS as well as Lifetime Television's ONE BORN EVERY MINUTE, chronicling the compelling daily stories of a bustling maternity ward. Through its distribution arm, Shine International, Reveille distributes its extensive library of programming to more than 150 countries.
About WHEY PROTEIN & DESIGNER WHEY
The DESIGNER WHEY vision is to change the "WHEY" America feels about protein by providing consumers with great tasting, healthy whey-based products that improve their healthy lifestyles.**
Since 1993, NEXT Proteins has pioneered the manufacture of a full line of branded, consumer whey protein products including powders and enhanced beverages. The industry's best selling protein, DESIGNER WHEY, powers the company's innovative, great tasting products such as Protein2GO, and Protein BLITZ®.
Whey protein has been called the ultimate functional food. The revolutionary benefit of DESIGNER WHEY products is the utilization of Whey, a protein-rich liquid component of milk produced as a by-product of the cheese-making process.
DEDICATED TO RESEARCH
DESIGNER WHEY has spent more than $10.3 million on research to match the perfect blend of nutritional whey protein with great taste.
Active people who use DESIGNER WHEY protein products before and after workouts can experience increased strength, improved power, faster muscle recovery, better health and performance.
Media members looking for additional information on DESIGNER WHEY's complete line of protein powders and drinks should visit DESIGNERWHEY.com. You may also learn innovative ways to incorporate protein into current diet plans, meals and discover tasty protein shake recipes.
**The current recommended dietary guidelines and practices in the U.S. support the use of dietary protein at levels above 1.5 g/kg per day or .68g/lb body weight/day (A150 lb woman needs 102 grams of protein per day) during weight loss. - Layman, Donald K., Journal of the American College of Nutrition.
###