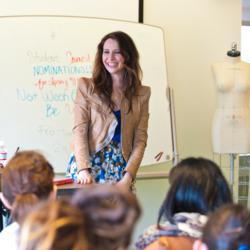 Los Angeles, CA (Vocus/PRWEB) March 17, 2011
FIDM/Fashion Institute of Design & Merchandising recently welcomed Mad Men costume designer Janie Bryant for an hour-long question and answer session with students. She also signed her new book, The Fashion File: Advice, Tips and Inspiration at the FIDM Museum & Galleries store. Bryant is an Emmy Award-winning costume designer also known for her work on Deadwood.
Bryant chatted about her career trajectory, from Seventh Avenue fashion designer to top Hollywood costume designer, and captivated students with her career advice. Many students at FIDM plan to work in the entertainment industry and the college has an Advanced Study Program in Film & TV Costume Design with graduates like Michelle Liu, Costume Designer and Set Costumer on Alice in Wonderland and Avatar.
Bryant fielded questions about research methods when it comes to period costumes, career advice, and the hit AMC show Mad Men. "The costumes are 50% original and 50% rebuilt from vintage pieces. I use reproduction girdles, long line bras, garter belts," she explains. "I do love Joan's red Christmas dress and Betty's riding costume. Let's not forget Betty's pink and white maternity dress."
"My inspiration starts with reading the script," says Bryant. "I feel the mood and pacing of the story and then I move on to other sources: old movies, the Internet, catalogs, family photos, old magazines like Time and Life, newspaper photos. Early inspiration for Mad Men came from the '60s movie classic The Apartment. McCabe & Mrs. Miller was instrumental in creating the look for Deadwood."
She also gave students helpful advice for their futures, such as avoiding gossip on set and trying to compromise with actors who may be unsure of wearing a particular costume. "Most important is to maintain a sense of artistry while staying flexible," she added.
With four dynamic California campuses, FIDM/Fashion Institute of Design & Merchandising is the premier west coast fashion design college, educating for careers in fashion,graphic design, interior design, and entertainment. FIDM's graduates include renowned fashion designers like Monique Lhuillier, Emmy® and Academy Award® award-winning costume designers, top fashion industry executives, and entrepreneurs.
# # #