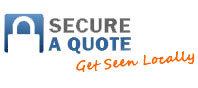 I get calls weekly from new prospects and I ask 'how did you find me?' They say 'internet local maps'.
El Dorado Hills, CA (Vocus/PRWEB) March 16, 2011
Secure A Quote, a leading provider of online marketing service's to insurance agencies, brokers, and carriers announced today a new service that allows insurance agents and agencies to get more direct local business from the use of online marketing services like Search, Social Media, and Mobile Application. This service will make it easier for local consumers to find them, thus get agents more business.
Co-Founder and Managing Partner of Secure A Quote, Jon Engleking states, "Our Company has been watching local search and social media become a common business practice, and we know insurance agents need more help. We have been generating great results in our test markets and have decided to take this public. Our service will allow agents to utilize Secure A Quote to get more direct local business. We feel that small agencies not utilizing the internet or social media in some aspect will see a decrease in their business over the next few years. Facebook, Twitter, Manta, Google, Bing, Yahoo, Dexknows, Merchant Circle, and others are ever changing and gaining larger market share. Our firm is here to deliver these agents to the directories that matter most and get them new local business."
Secure A Quote is elevating insurance agents to the next level by introducing an all-inclusive local search and social media feature for the insurance industry. So what is a local search result and why is Secure A Quote involved? Local search is the use of Internet search phrases or keywords that allow users to submit geographical searches (city, state, zip) along with a service or product. For example; if you are located in Sarasota, Florida and you are looking for flood insurance quotes, you will type in 'Sarasota Florida flood insurance' into an internet search engine or social media site. This will return results that are in that geographic area or surrounding suburb. Last year Google changed the way that their directory pulls information and now it shows local search results no matter if you include the City and State in your search, or not. Internet surveys by Google show 73% of online search activity is related to local content.
Secure A Quote believes their new system is going to win over the insurance industry because they are verifying the insurance businesses they work with and submitting them into the largest data portals available to the online community. Not only are they working on promoting search results, but they are taking one step further by offering a Local Search Reputation Management tool. This tool is set up to help manage online reviews and funnel positive reviews to large social media networks like Facebook and Twitter.
Rick Greene of Southwest Insurance Associates said "I get calls weekly from new prospects and I ask 'how did you find me?' They say 'internet local maps'. Amazing results for my small agency, and it pays for itself and more!"
Today's insurance marketplace is changing dramatically, as the internet grows and becomes more developed. One minute the fax machine is the hot way to send and receive quotes for home, auto, life, flood, and health insurance quotes, and now, utilizing email or automated quotes online is the way to conduct business.
To read more about Secure A Quote's new local internet marketing services, go to http://www.GetSeenLocally.com or Secure A Quote's spokesperson Jon Engleking at 866-299-7962 x111.
# # #