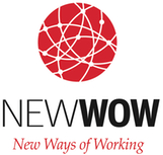 "Everything that can be counted does not necessarily count; everything that counts cannot necessarily be counted."
- Albert Einstein
(Vocus/PRWEB) March 16, 2011
At a recent symposium on work measurement, the members of New Ways of Working (New WOW) grappled with the complex issues of measuring work in distributed teams. Measuring work performance is often labeled the "holy grail" because it is so elusive. And measuring knowledge work is even more daunting.
Forty experts from the intersection of architecture, workplace design, information technology, psychology, engineering, human resources, and organizational development shared experiences and collaborated to develop a methodology for examining work performance at New WOW's 10th symposium. It featured Tim Springer, Ph.D., President of Human Environment Research Organization, (http://www.hero-inc.com/). Springer has devoted over three decades researching, educating, and consulting on measuring work, work behaviors, and the impact of the physical work environment performance. His firm helps clients like Wells Fargo, Deloitte & Touche, and Xerox develop schemes for effectively measuring knowledge work.
Until recently, the focus of research and practice of measuring work and work performance has been either the individual or the organization. But New WOW asked Springer to focus on group performance, an important element in measuring work across distance.
"Work in the era of New Wow is multimodal, multifunctional and multi-locational," Springer said. "It is more cognitively complex, involving periods of both high concentration and high collaboration. It is increasingly virtual and decoupled from a specific place and time. To measure work we first have to understand it."
Measuring work and work performance is dependent on context. One might even say context is the critical and defining factor. By definition, context changes with each set of circumstances. As work changes, measurement must be more flexible and adaptive.
Springer provided a framework for developing a measurement methodology. This involved answering six basic questions every reporter knows, but with the order changed significantly. The questions: why, who, what, how, when and where?
Symposium attendees also revisited the truism that bad performance measurement may be worse than no measurement at all. Take, for example, the case of a sales organization whose members were measured (and rewarded) based on the number of sales calls made. Yet one team, located in South America, had the highest sales volume of any global team and the lowest sales call volume. Why? Longer sales visits improved relationship-building and these relationships led to greater sales. The moral of the tale: Be careful what you measure.
"The problem is not for the lack of measurement tools. There are many," said Joe Ouye, co-founder of New Ways of Working. "There are so many new and sexy ways to measure behavior and patterns, such as sociometers and social network analysis, that it's easy to fall into the trap of using a tool when it does not address the problem at hand. The challenge is to understand the problem to the point where you can craft the right combination of measurements."
About New Ways of Working
New Ways of Working (New WOW) is a membership organization of thought leaders from companies and academia exploring new ways of working such as distributed work (telework), environmental sustainability and work, cross-cultural work, innovation and productivity.
###