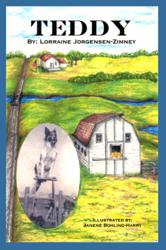 Ferney, SD (Vocus/PRWEB) March 18, 2011
Teddy, a new book by Lorraine Jorgensen-Zimney, has been released by RoseDog Books.
One day Uncle Walter brings a woolly, cuddly, teddy bear-like border collie puppy with him when he comes to visit his brother's family at their farm in South Dakota. Eleven-year-old Lorraine instantly wants to keep the puppy but must have her parents' approval. Because they have been looking for a good farm dog, Teddy has a new home.
His instinctive herding ability is demonstrated on the second day after the adoption when a roly-poly Teddy rolls and tumbles over field stubbles to chase after the cattle. But Lorraine also learns early on that Teddy has a strong-willed personality.
Starting with chapter four, Teddy is a full-grown dog. His intelligence and livestock "know-how" amazes the family. But Lorraine is not content to have Teddy just be a working dog; she wants to teach him to do some tricks. Teddy learns everything quickly, but when it comes to "sitting-up," he doesn't cooperate.
Although Teddy is written as fiction for middle-grade children, it is based on actual events and in the hope that readers of all ages will enjoy the story of a family, their exceptional dog and life on a small family farm in the early 1940s.
Lorraine Jorgensen-Zimney is a widowed, retired elementary schoolteacher who began her teaching career at the tender age of seventeen in a one-room, rural South Dakota schoolhouse with all eight grades. After marrying her high school sweetheart and helping her husband on the farm, she completed her education and continued to teach.
With the exception of a few years before and after the birth of her son, she taught for a total of thirty-eight years. Upon retiring, she often thought of writing. Her fond memories growing up on a farm and of her beloved pet were the inspiration for Teddy.
Teddy is a 98-page paperback with a retail price of $14.00. The ISBN is 978-1-4349-8383-1. RoseDog Books of Pittsburgh, Pennsylvania published it. For more information or to request a review copy, please visit our virtual pressroom at http://www.rosedog.com/pressroom or our online bookstore at http://www.rosedogbookstore.com
###