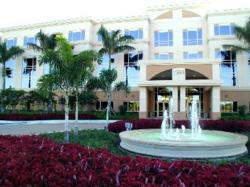 Meetings with anyone located anywhere from Sunrise
(Vocus/PRWEB) March 23, 2011
Office Edge Sunrise announced today new video conferencing capabilities and an affiliation with Affinity VideoNet. The alliance enables clients in Sunrise and Broward County to connect with hundreds of video conference suites in the United States and throughout the world. Video Teleconferencing can also be provided directly by contacting Office Edge Sunrise.
Kelly Ramsden, President of Office Edge Sunrise, said, "Businesspeople from every corner of the globe can 'meet' locally in a comfortable local business office setting instead of enduring the expense, time and headaches of travel. It's a natural complement to our virtual office and business services. Video-conferencing can bring immediate results for business decision and increase business productivity."
Ramsden stated that video conferencing is a great solution for long-distance customer interactions, depositions, interviews, and team meetings. She added, "And because people remember 80% of what they see and only a fraction of what they hear, video conferencing boosts attendees' abilities to recall more of what is shared during a live videoconference session."
The new option features a 55-inch LCD screen and professional Polycom equipment utilizing IP connectivity for maximum flexibility. Office Edge is located in a Class A building, conveniently located at 1580 Sawgrass Corporate Parkway adjacent to the I75, I595 and Sawgrass Expressway interchange.
Leah Weston, Director of Affiliate Relations at Affinity, says, "As the leading provider of top-quality video conference suites worldwide, we at Affinity VideoNet are very pleased to partner with Office Edge Sunrise. Our executive and legal clients have very specific requirements for their video conferences. The Office Edge team's professionalism, attention to detail and friendliness serve up the perfect recipe for client satisfaction."
About Office Edge
Office Edge provides outstanding virtual office, executive suite, conference room, live receptionist and virtual assistant solutions through a network of Class A offices in Sunrise, Coral Gables, Miami, and Boca Raton, Office Edge is your connection to local, national and the international business community.
For more information contact (954) 838-7747 or http://www.officeedgesunrise.com.
# # #