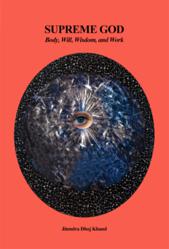 Pittsburgh, PA (Vocus/PRWEB) March 18, 2011
Supreme God: Body, Will, Wisdom, and Work, a new book by Luis Lopez, Jr., has been released by RoseDog Books.
Supreme God: Body, Will, Wisdom, and Work is a driving force for transformation from the atheist/terrorist people to the theist/peaceful people. Supreme God is smaller than the smallest and bigger than the biggest. The universe is the Body/Yantra of Supreme God. The Law of Nature is His Will and Wisdom/Mantra. The universal function is His Work/Tantra. An individual's body and Supreme God's Body and the Universe are correlated. Scientifically, the DNA and "God signal particle is simulated as sound" are examples.
How do you make zero and above the zero in the Veda and Tantra? Has the Lord Gautam Buddha gone through the Vedic literatures and Tantra? He would have reached above the zero but could not reach above the zero. Jesus Christ went through the literatures of Vedas and Tantra. Similarly, if Stephen W. Hawking goes through the literatures of Vedas and Tantra, he may contribute more than the contributions of today.
Jitendra Dhoj Khand, PhD is senior professor of International Relations at the Central Department of Political Science, Tribhuvan University (TU). He is senior fellow at the Sangam Institute for Policy Analysis and Strategic Studies, Kathmandu. He is Head of the Department of Strategic Studies and Social Sciences at the Military Academy and the visiting professor of Army Command and Staff College.
Prof. Khand has participated and presented papers in several international seminars held in Banaras, Michigan, Chicago, Hebrew University and IISS in London, IISS in Bezing, Dhaka, Colombo, Kathmandu, and Dili in East Timor.
Supreme God: Body, Will, Wisdom, and Work is a 438-page paperback with a retail price of $40.00. The ISBN is 978-1-4349-8366-4. Rose Dog Books of Pittsburgh, Pennsylvania published it. For more information or to request a review copy, please visit our virtual pressroom at http://www.rosedog.com/pressroom or our online bookstore at http://www.rosedogbookstore.com.
# # #