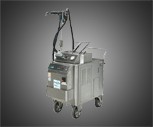 Definitely, water has become more of a focus of our clients.
(Vocus/PRWEB) March 21, 2011
AmeriVap Systems has seen a large shift toward water and waste water management in Corporate Sustainability Targets in the past year. In different parts of the world, water supplies are under strain due to increased demand and climate change. The demand driven by population and economic development has put pressure on water prices around the world.
Specific to wastewater, Biochemical Oxygen Demand (BOD) levels are used to measure effluent strength and to establish effluent guidelines. Many municipalities use BOD loads to determine charges and surcharges for industrial users of waste treatment facilities. Reducing these BOD loads can save a company quite a bit of money in charges.
Industrial steam cleaning equipment, specifically dry steam vapor cleaners like the Xtreme steam vapor cleaners of AmeriVap Systems, provide a key tool in water and waste water management while maintaining cleanliness and sanitation standards. Unlike heated pressure washers, or the typical routine of pre-rinsing, foaming, scrubbing and rinsing, the Xtreme Steam vapor cleaners use only quarts of water per hour, rather than gallons of water per minute. This translates to a huge savings on water and waste water creation- up to a 95% savings in some cases.
However, industrial steam cleaning equipment goes even further in hitting sustainability targets by operating without chemicals. The steam, delivered at temperatures know to kill pathogenic bacteria, cleans and sanitizes without the need for chemicals, their potentially harmful residue, and their expense.
Using no chemicals and yet achieving as much as a log 3 to 4 reduction in harmful bacteria on work surfaces, all the while using much less water make an industrial dry steam vapor cleaner a very attractive tool for industries like food processing where cleanliness and sanitation are paramount, yet are expected to achieve sustainability targets. According to Werner Diercks, CEO of AmeriVap Systems, he has seen a large focus recently on water and waste water specifically from corporate food manufacturers. "Definitely, water has become more of a focus of our clients. But not just in food processing and manufacturing. Also, meat processing and major brewers who already use quite a bit of water are interested in using less, while keeping their facilities spotless."
AmeriVap Systems, an industry pioneer in dry steam vapor cleaning technology, and its line of industrial steam cleaners and attachments like the Houdini automatic conveyor cleaner, solves cleaning solutions in any industry that seeks maximum cleaning results while at the same time seeks to address consumer demand for sustainable cleaning methods and water management. Please contact the company at http://www.amerivap.com.
###