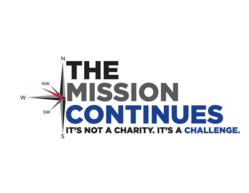 "This investment from New Profit helps us to engage this generation of veterans and American citizens around the country. Our mission is a mission for every American."
St. Louis, Missouri (Vocus/PRWEB) March 16, 2011
This week, New Profit Inc. announced an investment in The Mission Continues, an award-winning national non-profit organization whose mission is to enable every returning veteran to serve again as a citizen leader.
New Profit exists to help innovative social entrepreneurs and their organizations dramatically improve opportunities for children, families, and communities. Since 1998, with the support of individual investors and its signature partner, Monitor Group, New Profit has helped a portfolio of social entrepreneurs build their organizations and scale their social impact.
New Profit's investment in The Mission Continues will facilitate significant growth of the organization's Fellowship and Service Project Programs. The Fellowship Program provides post-9/11 wounded and disabled veterans the opportunity to regain purpose in their lives through community service to a local nonprofit organization. The Service Projects Program challenges veterans to continue their lifelong commitment to service by leading projects in their communities, and asks civilians to support veterans' efforts and show gratitude by serving alongside them.
With this investment, The Mission Continues joins some of the most innovative social organizations in the country that have expanded significantly with New Profit's support, including Teach For America, KIPP Schools, Year Up and Health Leads (formerly Project HEALTH). The Mission Continues is the first veteran's organization to join the New Profit portfolio.
"New Profit is thrilled to be partnering with The Mission Continues," said Elizabeth Riker, Managing Partner at New Profit. "The organization's efforts to help connect veterans with opportunities to continue serving our country represent one of the most exciting and powerful approaches we've seen to addressing a persistent challenge facing disconnected military service members."
Through community service fellowships, The Mission Continues empowers veterans who are suffering from a loss of purpose following an injury that has prevented them from further military service.
"Our veterans are an asset. We should challenge them to continue their lifelong commitments to service by serving in our communities," said Eric Greitens, CEO of The Mission Continues. "This investment from New Profit helps us to engage this generation of veterans and American citizens around the country. Our mission is a mission for every American."
Learn more about New Profit and their investment portfolio at http://www.newprofit.com.
About The Mission Continues
The Mission Continues is a national nonprofit organization with a mission to build an America where every returning veteran can serve again as a citizen leader. Founded in 2007 when Navy SEAL Eric Greitens returned from Iraq, the organization offers paid service fellowships to wounded and disabled veterans, awarding over 115 fellowships in 24 states to date. In addition, The Mission Continues has mobilized over 15,000 civilian and veteran volunteers to complete 270 service projects across the nation. For more information about The Mission Continues, please visit http://www.missioncontinues.org.
###