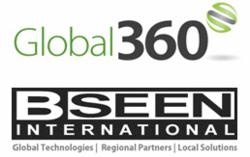 Global 360 has an exceptionally strong BPM suite built to work seamlessly with the Microsoft platform
Dallas, TX (Vocus/PRWEB) March 16, 2011
Global 360, a leading provider of process and case management solutions, and BSEEN International Organization Ltd (BSEEN), a global operation focused on market entry and expansion for selected leading edge technologies, today announced a partnership to help organizations in the Middle East region use business process management (BPM) together with their Microsoft® products to improve business processes, optimize workforce efficiency and reduce operational costs.
BSEEN will market, sell, and support the Global 360 Process360 and Case360 BPM products and associated services to Middle Eastern organizations in the financial, government, education, oil and gas, telecommunications, and supply chain sectors.
Azita Nader, CEO, BSEEN, said, "We are pleased to partner with Global 360 and offer their industry leading BPM solutions to our customers, as we now find that the market has matured and can differentiate between a simplistic workflow and a true enterprise BPM solution. The mechanisms within Global 360's products for process improvement even after the implementation phase is complete are critical and uniquely valuable to our customers. Also, the solutions are persona-based, which enable end users to achieve much higher efficiency while performing their work. Our customers who are on the Microsoft platforms are very interested in and excited about Global 360's solutions, and we look forward to expanding the market through this partnership."
Rob Glenn, Senior Vice President of International Sales, Global 360, said "We've identified that organizations in the Middle East have significantly increased their understanding of the value that BPM can have in optimizing operational efficiency and reducing costs, and are also extensive users of Microsoft technologies. Global 360 has an exceptionally strong business process management suite that is built to work seamlessly with the Microsoft platform, and we believe that there is a tremendous opportunity to assist the public and private sectors in improving business processes and providing real-time visibility into them. With BSEEN's extraordinary knowledge of Middle Eastern business technology needs and experience with the Microsoft platform, we are very excited to work together to provide valuable support to customers in the region."
The distribution partnership is a part of BSEEN's ongoing enterprise solution strategy of bringing the best of leading edge technologies to market, particularly in developing countries. Through its extensive global reseller infrastructure BSEEN plans to offer process consulting, solution implementation and support services to clients in the Middle East region.
Recognized by Microsoft as a 2010 Partner of the Year, Global 360's process and case management solutions leverage Microsoft SharePoint®, Visio®, BizTalk Server®, SQL Server® and Office® to move beyond content management and simple workflow. Users can build and manage robust, enterprise class processes while still taking advantage of Microsoft solution strengths in content management, collaboration, process modeling, and user interface.
About BSEEN International
BSEEN International Organization Ltd. (BSEEN) is a global consulting and services company that is uniquely positioned to deliver Strategic Business Development and e-Government solutions. BSEEN helps its clients to obtain the best solutions through its managed family consortium of sector and region-focused Strategic Partners and its Board of Advisors who are influential business and government leaders that have built and managed large enterprise and e-government solutions. BSEEN has partners around the Globe with varying specialisations, including: training delivery specialists, IT service delivery partners and IT reseller and integrators. This global network allows BSEEN to provide its customers IT solution and services, thereby ensuring the success of the project, and ensuring that the customer gets maximum benefit from their IT infrastructure. http://www.bseen-int.com
About Global 360
With more than 2,000 customers in 70 countries, Global 360, Inc. is a leading provider of process and case management solutions. Global 360 is headquartered in Texas with operations in North America, Europe, Asia Pacific and South Africa. For more information, call 1-214-520-1660 or visit the company web site at http://www.Global360.com.
###